'The Bachelorette' Episode 8: Happiness on Hometown Dates (RECAP)
[SPOILER ALERT: This recap features spoilers from the Season 14, Episode 8 of The Bachelorette.]
Can you believe its already hometown visits on The Bachelorette? It seems like just yesterday they were making their grand limo entrances, and now, it's time for Becca Kufrin to meet the families of her final four men.
Usually, these dates bring a little bit of drama, and if that's what you were hoping for, you definitely weren't disappointed because not only did Becca dig deeper into each guy's background, Tia returned for round 100 of this whole Colton debacle.
Here's what you missed on The Bachelorette:
Garrett — Manteca, CA
Sowing the seeds of love! #TheBachelorette pic.twitter.com/GAbx9mIFpr

— The Bachelorette (@BacheloretteABC) July 17, 2018
Becca and Garrett have a strong connection, no doubt. And some of the attraction is because he's got the same country roots as her — so it's no surprise that their date started out on his family's farm.
When they made it back to his parents' house, the whole fam (including grandparents) were there, and it was clear off the bat that they're all very close.
Garrett's family was very wary of Becca because he's been through a lot… cue mentioning his past divorce. Basically, they wanted to make sure she was genuine — but it's kind of hard to tell that when she's still into three other guys.
Things got real when she sat down with his mom, but Becca managed to pass her test, too.
Jason — Buffalo, NY
On Jason's date, Becca got to visit upstate New York, and they went to a bar to chow down on some OG chicken wings because as Jason so eloquently put it, "We take our chicken wings pretty damn serious!"
Afterwards, they had an entire hockey rink to themselves so that Jason could teach Becca about the sport that's so important to him. But let's be real — he was just showing off some puck skills.
Nice on ice! #TheBachelorette pic.twitter.com/RCSB7f8LFT

— The Bachelorette (@BacheloretteABC) July 17, 2018
Becca seemed to immediately hit it off with his parents, despite the fact that Jason's mom wasn't convinced that Becca was ready to get engaged. Uh, trust the process, lady.
But the family members who stole the show were his brother and brother-in-law… was anyone else thinking it was Darren Criss' doppelganger?!?!
At the end of the date, Jason told Becca he was in love with her. There were kisses and a romantic goodbye.
Blake — Bailey, CO
As soon as Becca arrived in Colorado, she ran through and into Blake's arms. These two are so into each other, it's a rom-com movie in the making.
In keeping with that comparison, Blake has a somewhat darker past and "has been through a lot." He took Becca to his high school and opened up to her about a shooting and hostage situation that occurred there while he and his sister were students.
He added that tragedy has shaped the man he is today and Becca thanked him for sharing those emotional memories.
Then, they walked into the auditorium to a surprise Betty Who concert. Who saw that coming?!
Sure he's crazy. Crazy in love is Blake. #TheBachelorette pic.twitter.com/LlQXu5n87S

— The Bachelorette (@BacheloretteABC) July 17, 2018
Moving on to meeting Blake's parents: He told his mom that he's already admitted to Becca that he's in love with her. Her response was "that's crazy." Obviously, his family was very concerned that he'd end up with his heart broken, which is a valid point.
Colton — Parker, CO
Colorado Part II.
Becca and Colton visited a children's in the hospital — with gifts — and after seeing him interact with the kids, Colton won some major Daddy point.
🦄#TheBachelorette pic.twitter.com/xjD9o8mWue

— The Bachelorette (@BacheloretteABC) July 17, 2018
Speaking of dads… Colton's was out for blood. When he and his son sat down to talk about Becca, he asked how much they've talked about Becca's former engagement to Arie, and if Colton thinks that she's ready to get engaged again.
Colton's dad appeared to have liked Becca when he had the chance to talk to her one-on-one though. It seemed like he wanted to hold off on judgment until one man is left standing… Can you blame him?
Colton did end up telling his mom that he loves Becca and thinks he could get engaged. She was rightfully shocked. His family definitely seemed thrown by this whole reality TV show thing, but hey, that's The Bachelorette for you.
Tia With The Tea
Becca's BFFs from Arie's season of The Bachelor — Tia, Bekah M., Kendall, and Caroline — all met up to talk through Becca's hometown dates.
After she spilled the details on everything, Tia asked her to speak in private, and you knew something big was about to go down.
A hug before the bomb drops. #TheBachelorette pic.twitter.com/dJXKFfUV96

— The Bachelorette (@BacheloretteABC) July 17, 2018
In the lamest shocker of the season, Tia admitted she still has feelings for Colton, and she was pretty clear about it.
Understandably, Becca was upset and taken aback since Colton had just told her he was falling in love with her. What a twisted web we weave.
The Rose Ceremony
In the most predictable end to an episode ever Colton was sent home, and it definitely had a lot to do with Tia's feelings confession, even if Becca won't cop to it.
Jason, Garrett and Blake remain and the threesome (plus Becca) are heading off to Thailand for fantasy suite round. And yes, we're jealous.
The Bachelorette, Mondays, 8/7c, ABC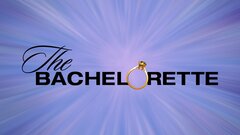 Powered by