'Bachelorette' Becca on What to Expect This Season — 'I'm Very Decisive'
Bachelorette Season 14 star Becca Kufrin recently announced she's engaged (again) after her second time being a part of the ABC dating show.
"I wanted to share my excitement. It's big news," said Kufrin during a press conference phone call ahead of the May 28 season premiere. "It's something that I thought was important to share since people have been with me on a journey for so long."
This time around, she's in control of selection process and totally open to finding love again after being burned last season by Bachelor Arie Luyendyk Jr.
"It felt so great to say yes to this position and I was excited to really find love and know that it worked last time and that it would work again," Becca said.
See Also
Cheers to the premiere of Season 14.
The roller-coaster journey definitely opened up the Minnesota native's eyes to the process and made her more empathetic towards Arie and his struggle at the end of the season.
"I became much more understanding [about] the entire journey and how he wasn't feeling certain ways about multiple women," she revealed.
And found it hard to say goodbye to great guys — "When I did say goodbye to the guys I just wanted to do it as respectfully and honestly as possible."
She was also absolutely there for the right reasons and wanted to have an authentic experience. She wasn't searching for a rebound relationship, and said she would have been okay walking away without a partner.
"I was very upfront the entire time about if it's not 1000% right I don't want any party involved to feel pressure to get down on one knee. If that didn't happen, I was fine with that."
But she did find love and isn't in a rush to plan a wedding because she wants more time with her fiancé "to figure out each other." So, that means no "set wedding plans or dates. We're just living in the moment."
During the journey, Becca looked to her family for support. She admits her family was "hesitant at first" but ultimately "they were so supportive and basically sent me off with their blessing. They trust me. They trust my judgement."
Plus, this time around everything was on her "terms," which makes all the difference. And expect to see some of her closest girlfriends pop in and out because "my girlfriends are a huge part of my life and you'll definitely see that play out throughout my season. Some of the girls that were there with me on that couch, [during After the Final Rose] you'll see again."
Three other women who helped guide Becca this season are former Bachelorette stars Rachel Lindsay, Jojo Fletcher and Kaitlyn Bristowe. Becca confirmed she did meet up with them and they gave her some great, insightful advice for how to navigate reality TV dating.
Another major question on Bachelor Nation's mind is if Arie and Lauren will make an appearance this season. Surprisingly, Becca reveals she's "been in touch a little bit" with them and wishes them the best with their upcoming wedding in January 2019. She'd even go to their wedding (if invited) with her man.
Revenge is, most definitely, best served cold.
The Bachelorette, Season 14 Premiere, Monday, May 28, 8/7c, ABC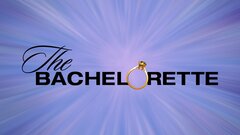 Powered by