'Bachelorette' Becca Responds to Garrett's Instagram Controversy
As soon as Garrett Yrigoyen stepped out of the minivan on the Season 14 premiere of The Bachelorette, all of Bachelor Nation sighed in relief — finally a normal, down-to-earth guy … or so we thought.
Just as Becca Kufron bestowed Garrett with the first impression rose, the Internet exploded in controversy over the Nevada native.
Garrett allegedly liked a number of Instagram posts which mocked people in the transgender community, immigrants, and Parkland shooting survivors, just to name a few, and the social media account in question has since been deleted after screenshots of the "likes" started to circulate online.
Becca finally addressed the scandal while doing press for her new season. She told Entertainment Tonight, "I want viewers to be open to everyone, and I want them to go through this season with me and watch my love story unfold with all of these men … because that's how I went into this journey."
"I did things in the past that I'm sure wasn't the best thing, but I just want people to stay open-minded to everyone."
See Also
Particularly frontrunner Garrett, who has 'liked' social media posts mocking the trans community, immigrants, and more.
The 28-year-old did admit that if the allegations against Garrett or any man she dated were true, she would discuss it with him — "We would get to the bottom of it and we would find a solution," she said.
Meanwhile, ABC execs are also weighing in on the matter. Senior Vice President of Alternative Series, Specials & Late-Night Programming, Robert Mills, said about the controversy: "It's an alleged account."
See Also
Season 14 is all on Kufrin's terms.
"And it's likes, it's not things he's actually posted, which are things you actually can't scrub for unless the person has a certain number of followers … Obviously we want to know every single possible thing about these contestants. So, we're working harder."
The Bachelorette, Mondays, 8/7c, ABC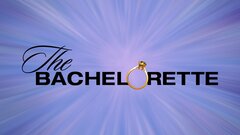 Powered by