History of Sex Comedy, SharkFest, Sacha Baron Cohen Strikes Again
A critical checklist of notable weekend TV:
The History of Comedy (Sunday, 10/9c, CNN): A new season of the docu-series that analyzes all forms of comedy gets down and proudly dirty in its opening episode, "Carnal Knowledge." From Mae West to Amy Schumer, charting a progression from separate beds on The Dick Van Dyke Show to the awkwardly busy bedmates of Sex and the City and Girls, this brisk pop-cultural survey celebrates how far we've come in using humor to demystify what comedian Whitney Cummings rightly describes as "the great equalizer." (I learned something new: that LaWanda Page, made famous as the cantankerous Aunt Esther on Sanford and Son, was among the bawdiest of stand-ups. I'll be checking out her recordings soon.)
SharkFest (Sunday, 8/7c, Nat Geo WILD): Hoping to get a jump on Discovery's better-known Shark Week franchise, celebrating its 30th anniversary later this summer, SharkFest expands to a two-week feeding frenzy. The lineup begins with When Sharks Attack: Mayhem in Mexico, exploring incidents in Cancun between 2011 and 2013; followed by Shark vs. Tuna (9/8c) and The Whale That Ate Jaws: New Evidence (10/9c), which sounds like the Jaws version of Godzilla vs. Megalon.
Who Is America? (Sunday, 10/9c, Showtime): The provocateur who brought us the disruptive antics of Borat and Bruno is back, and this time Sacha Baron Cohen is punking infinitely mockable targets including Sarah Palin, Dick Cheney and Roy Moore (according to recent news reports and teasers). Will this satirical exposé tell us anything we don't already know about our fractured and polarized nation? Laughter will either be the best medicine or the last straw that broke this curdled political culture once and for all. (Paired with new episodes of Our Cartoon President at 10:30/9:30c, which is basically the British balloon caricature of the president brought to life.)
Pose (Sunday, 9/8c, FX): Cause to celebrate: This flamboyantly heartfelt series set in the 1980s subculture of trans and gay life has been renewed for a second season, just as the first is nearing its finale. Following last week's heartbreaker, the penultimate episode is a pivotal one. Blanca (MJ Rodriguez) is forced to be a tough mother when she discovers one of her "children" hasn't been truthful, and rival Elektra (Dominique Jackson) faces her own housing crisis when she reveals the results of her surgery to her longtime sugar daddy (Christopher Meloni). Back in the ballroom, Stan (Evan Peters) accompanies Angel (Indya Moore) for the first time, only to realize how far he is out of his element.
Inside Weekend TV: In case you were among the small fan base of quickly canceled CBS comedies Me, Myself & I and Living Biblically, both series are burning off the remainder of their seasons on Saturdays with back-to-back episodes: Myself at 8/7c (including a Thanksgiving themed episode) and Biblically at 9/8c… Emmy nominee Benedict Cumberbatch (Patrick Melrose) narrates the BBC America nature series South Pacific (Saturday, 9/8c), which explores the most remote of the ocean's 20,000 islands in the premiere. Stay tuned afterward for behind-the-scenes footage… Netflix's comedic talk show The Joel McHale Show with Joel McHale returns with six "bonus" episodes… The family retreats from public scandal to eldest son Connor's (Alan Ruck) New Mexico ranch in HBO's Succession (Sunday, 10/9c), but when a group therapy session turns out to be just another publicity stunt, things go south quick. And smarting from defeat, Kendall (Jeremy Strong) is tempted to fall off the sobriety wagon. None of it's pretty.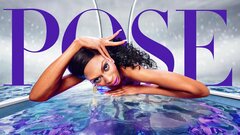 Pose
where to stream