'Love It or List It': He Said/She Said With David Visentin & Hilary Farr
For 14 seasons on Love It or List It, designer Hilary Farr and real estate agent David Visentin have competed to sway unhappy homeowners. She renovates their houses and tries to convince them to stay put, while he hunts for better abodes and urges them to move.
Every week, we're torn over which way the owners should go…but one thing never changes: We could list the many ways we love this bickering pair. Turns out, they can be just as snippy with each other off camera!
How did the two of you first meet?
David Visentin: I was volunteering at a soup kitchen and she came in — I guess she was hungry. [Laughs] Honestly, though, we met at the audition for the show. We did not know each other before that. We were thrown together by HGTV. Here we are 10 years and 200-odd episodes later.
Hilary Farr: Once I was chosen as Love It or List It's on-air designer, I was paired with a few Realtors [as potential costars]. I had my eye on a tall, dark-haired guy with blue eyes, but David beat the competition, and the rest is history. We were put together like an arranged marriage.
What was your first impression of her/him?
David Visentin: The British accent. It was cool for about 15 minutes and then I wanted it to be French or Italian. I do remember her being easy to work with and fun. That's what has allowed us to do the show for so long. We both love to play.
Hilary Farr: I barely remembered David. Note the reference to the tall, dark-haired, blue-eyed Realtor. [Laughs] But David makes me laugh and is terrific to work with. We've become close friends and colleagues, so it turned out to be the perfect match.
Who's more competitive, you or Hilary/ you or David?
David Visentin: We are both, [but] I am a little more laid-back than Hilary. Would you hire Hilary to redesign your home if you needed a renovation?
Hilary Farr: Maybe I'm a bit more. I think David has a different way to describe that aspect of me. [Laughs]
Would you hire Hilary to redesign your home if you needed a renovation?
David Visentin: Absolutely. She's talented and I'd love for her to redo part of my 100-year-old basement. I have a feeling the price she'd charge me would make it cost-prohibitive!
Would you hire David to find you a new house if you were in the market?
Hilary Farr: Yes, I would. I trust and respect David, and I know how good he is at his job.
Love It or List It, Mondays, 9/8c, HGTV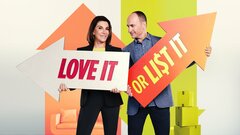 Powered by