'Trial & Error' Season 2: EP Jeff Astrof Talks Using Real Life Stories as Inspiration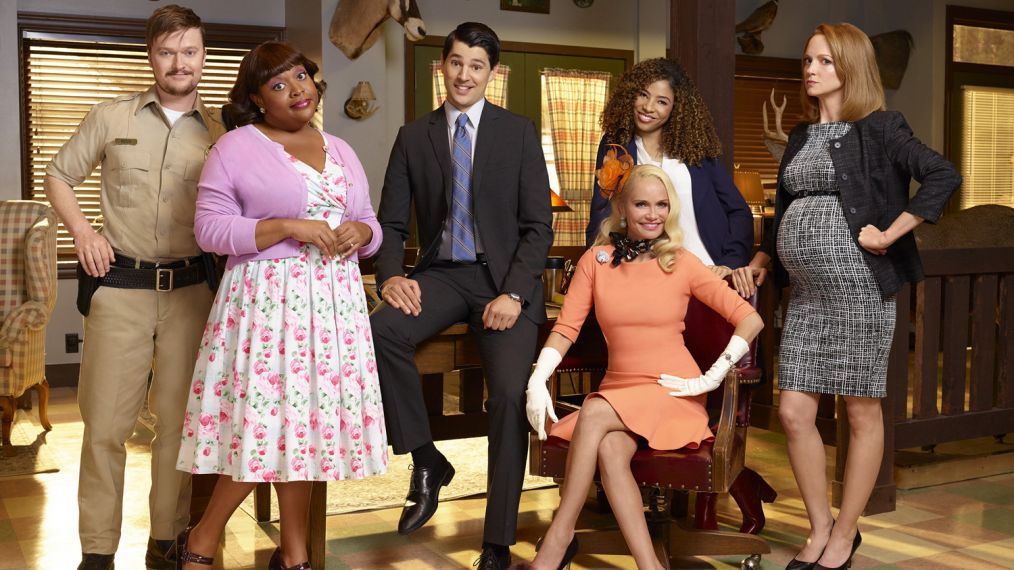 Everything seems lighter and more fun in the summer — even homicide! NBC's oddly sunny crime spoof Trial & Error (now subtitled Lady, Killer) is back in court for a second season with newbie lawyer Josh Segal (Nicholas D'Agosto) and his hilariously inept small-town legal team defending an alluring new suspect, played by Emmy winner Kristin Chenoweth.
The comedy's first round ended with Josh and his East Peck, South Carolina, firm bracing themselves for another bizarro murder case. They'd just proven that their client, oddball poet Larry Henderson (John Lithgow), hadn't killed his wife — it was an owl who did the deed — when they learned that a body had been found stuffed in a suitcase. Season 2 picks up several months later, with Josh again going head-to-head with prosecutor Carol Anne Keane (Jayma Mays) as he defends socialite Lavinia Peck-Foster (Chenoweth) — who happens to be the widow of the corpse in the offending piece of luggage.
Josh, a New York City transplant who at first found himself a fish out of water, has a very different attorney-client dynamic with Lavinia than he had with Larry, says executive producer Jeff Astrof. "Larry was an outsider like Josh," he says. "I wanted to see what it was like for Josh to represent the ultimate insider." Lavinia is so beloved that no one in East Peck wants to believe she could be guilty. "She is Peck royalty," D'Agosto adds. "Even the judge is on her side!"
Cast newcomer Chenoweth plays Lavinia with her signature bubbly charm. She describes the Southern belle as a mashup of actress Madeline Kahn, Dolly Parton, Hannibal Lecter and The Real Housewives of Beverly Hills' Lisa Vanderpump. "I can't confirm or deny that she's a killer," Chenoweth teases. "I can say that I think she's a lady. Lady first, killer… possibly."
See Also
Plus, the actress teases her role on the upcoming season on 'Trial & Error.'
As in the first season, Lavinia's alleged misdeed is taken from real-world crimes. Lithgow's Larry (who will not return) was a thinly veiled stand-in for writer Michael Peterson, subject of the influential documentary series The Staircase, whose case even included an infamous owl theory. Chenoweth's character is inspired by suspected serial killer Robert Durst, but her case is more of an amalgam of several recent true-crime elements.
One difference from the premiere season is a quick resolution to the trial. "Last year, the verdict came at the end of the season. This year, it comes in Episode 5," says Astrof of the 10-installment run.
Then the firm gets another client. All Astrof will spill is that the second case has echoes of the award-winning podcast S-Town, which profiled an Alabama eccentric named John B. McLemore. This storyline introduces Jesse Ray Beaumont (Michael Hitchcock), who is intimately entwined with Lavinia. "You're going see her loyalty change," Chenoweth says of her character's involvement with Jesse. "I'll just say I got a lot of opportunities to work with Jayma."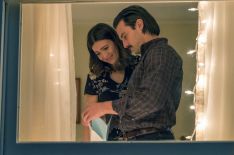 See Also
And Wednesday night has become 'Chicago' central.
Speaking of Mays's character, the prosecutor — and Josh's occasional fling — is pregnant! Which presents another mystery: Who is the father? Is there more to Josh's decision to put down roots than just his recent success?
Further complicating matters of the heart is New York City podcast producer Nina Rudolph (Amanda Payton) — based on Serial's Sarah Koenig — who's looking to develop a show about all the local murders. "I wanted to put Josh in the middle of a real [love] triangle," Astrof says. "He may be the father of Carol Anne's baby. But he also likes this other woman."
See Also
Curious about the new shows coming to NBC? See the first trailers for what could be your next TV addictions!
The townsfolk aren't the only ones with quirks. Astrof also wanted to explore East Peck's ridiculous history, sprinkling in references to tiny Season 1 details (a map, for example) and planting seeds that will pay off in potential third and fourth outings. "Jeff is always working ahead," D'Agosto says fondly. "He's on a mission to keep the show going."
Astrof is even bringing Nina's faux podcast to life: M-Towne: Where Murder Happens, a mockumentary-style audio drama, will be available online. "It gives insight into the town and other things going on in East Peck," he says. "I know every inch of this [place], every inch of these characters. It's in my soul."
Trial & Error: Lady Killer, Season 2 Premiere, Thursday, July 19, 9/8, NBC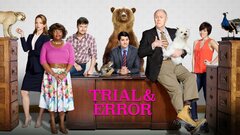 Powered by