James Corden Books Zac Efron and Anna Kendrick for Post-Super Bowl 'Late Late' Show
James Corden has set the guest list for The Late Late Show's special post-Super Bowl spot.
Zac Efron, Anna Kendrick and Adam DeVine (Pitch Perfect) will all join Corden for the Sunday, Feb. 7 broadcast, which will air sometime around 11:35/10:35c on CBS. As previously announced, the episode will also feature Elton John for one of Corden's beloved "Carpool Karaoke" segments. Also included in the episode are recreations of classic Super Bowl commercials, a tailgate party outside of the studio and the first ever "Baby Bowl."
The Late Late Show Super Bowl special will air following The Late Show with Stephen Colbert. Colbert's guests include Tina Fey, Will Ferrell, Margot Robbie, Keegan Michael-Key, Jordan Peele and Megyn Kelly of Fox News.
RELATED: The Late Show With Stephen Colbert Gets Coveted Post-Super Bowl Slot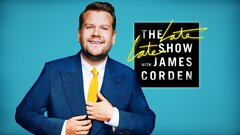 Powered by