Britt Baron on Showing Her Dramatic Acting Chops in 'GLOW' Season 2
Britt Baron often joked with Alison Brie on the set of the second season of GLOW that she was on a different show than a lot of the other women.
The Netflix series may be considered a comedy more times than not. However, playing Justine often required Baron to flex some serious dramatic muscle. After Justine revealed she was Sam's (Marc Maron) illegitimate daughter in Season 1, they attempt to move forward in this season, which brings some bumps in the road.
"I think our relationship off camera mirrors what Justine and Sam are going through," Baron said.
"I think that's why it perhaps translates well and why our chemistry works well because I look up to Marc Maron. I know who he was before we started filming. I definitely look up to him as a role model. I'm so impressed with what he has accomplished. He definitely didn't know who I was starting on GLOW, so it's really a wonderful working relationship. Marc is so kind and so smart and just very confident on set.
"It feels really wonderful to be in a scene with him. I trust him. He will speak up if something doesn't feel right or if he feels the scene is being taken in a different way it was written or intended. Sometimes I feel it's harder for me to speak up. I can be shy on set, especially in the beginning. It's been really lovely to have Marc Maron as a sounding board, unapologetic, incredibly kind. I love their dynamic.
"Some of my favorite moments in season two are when you kind of get to see him be kinder. He is such a curmudgeonly, grumpy old man. To see him open up and be kind to Justine is so rewarding as my character and audience member. It warms your heart when you realize, 'Okay, he does have a heart.'"
Baron spends much of her episodes working with Brie and Maron, which was an adjustment from season one. The transition for her as she was used to working the big group scenes.
"It's a much different dynamic than when you're with 15 other girls screaming and making jokes," she said of the experience.
"It's much quieter. Days when I wasn't filming, they were together. And we're in a group chat and see all these photos when they're all hanging out. There were moments where I thought, 'Should I go to set and just hang out?' It was challenging in a different way, but incredibly rewarding because season two I have a wonderful story arc. And as an actor it's such a blessing to have these meaty scenes.
"That's what I strive for as an actor. I think that was an extremely exciting challenge where it's often me and one other person, so I have to carry a scene. The days I was in group scenes was such a gift because that's what is one of the best parts of GLOW. Being with all the girls."
Baron can see some of Justine in her. Relating because she went through a similar phase in life growing up.
"I went through my punk phase, but I was more emo painting my nails black. That kind of rebellion at that age where you are kind of figuring out that you're not really an adult, but don't want to be treated like a kid anymore," she said.
"I just love her. I think she is so smart, way smarter than I was especially at 16. I think she is very confident and knows who she is. I think in season two you see her more as a kid. Season 1 was more of her trying to act older and blend in and trying to be tough. Season 2 she has friends now, opening up to her father. You see her more as a kind kid.
"Even later in the season you see her as a typical teenager lashing out at her parents. I have been guilty of that. Some of that was improv. I had to tell (executive producers) Liz [Flahive] and Carly [Mensch] that I do have experience yelling at my parents. That was not a stretch for me. I do think there are parts of Justine in me, but I do think I'm a little more outgoing I hope."
Despite the critical and overall success of GLOW, life hasn't changed much for Baron. "I'm still the same person. I still go to CVS in my sweatpants," she said. Although she feels she gained a second family and new community thanks to the close bond built with cast and crew. The actress likened going back to set as returning home or school or camp.
One thing that has changed since the series exploded in popularity is Baron having a bigger presence on social media. Followers are no longer just family and friends. They are fans of GLOW, her portrayal of Justine or other projects she is working on including Sony Crackle's comedy Rob Riggle's Ski Master Academy. Baron is cognizant of this fact before posting anything.
"With social media, it's a responsibility," Baron said. "I think in today's world I do feel a certain obligation, a little bit at least, to speak up and use my platform to promote things I believe in. I'm very active with the American Foundation for Suicide Prevention. I've been open about that. I try to use my platform for good, but I'm aware that there are things out there I don't fully understand.
"I'm definitely not someone who wants to start preaching about all these complicated politics. I think with any sort of platform there is a responsibility, especially for anyone younger who is following me. I do want to be a good role model, especially for young people. I think social media is a good, interesting, crazy new way to reach out to anyone and everyone of all ages across the world. It's crazy. I'm still figuring it out. It's all very new."
GLOW, Season 2 available Friday, June 29, Netflix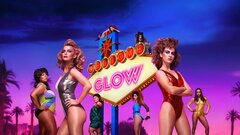 GLOW
where to stream
Powered by