'Orange Shirt' on PBS, J.Lo Gets 'Blue' One Last Time, 'Affair' Returns
A selective critical checklist of notable weekend TV:
Man in an Orange Shirt (Sunday, 9/8c, PBS; check local listings at pbs.org): The love that once dared not speak its name finds heartbreaking voice in a powerful Masterpiece movie that bridges generations with a story of repressed and forbidden affections. Shirt opens during WWII, when two soldiers fall in passionate through secret love until the realities of 1940s society drive them apart. In present-day London, the widow (Vanessa Redgrave) of one of the men comes to terms with this history with the help of her conflicted gay grandson (Julian Morris).
Shades of Blue (Sunday, 10/9c, NBC): Jennifer Lopez returns for one last walk on the dark side as conflicted NYPD detective Harlee Santos, whose killing of abusive ex Miguel is likely to haunt her through the third and final season. Even if her corrupt mentor Lt. Wozniak (Ray Liotta) survives being shot in last season's cliffhanger, will he make it through the season without paying for his sins?
See Also
Plus, if the triple threat would do another TV series.
The Affair (Sunday, 9/8c, Showtime): The heart wants what it wants—or so we're told—and as the tangled, torrid relationship drama enters its fourth season, all four principals are involved in new relationships. Helen (Maura Tierney) has uprooted the family to California with a new beau, but her ex, Noah (Dominic West), has also gone West to teach, getting busy with the charter school's principal (Sanaa Lathan). As for Alison (Ruth Wilson) and a remarried Cole (Joshua Jackson) back in Montauk: oodles more angst.
See Also
New characters are introduced ahead of the show's June 17th premiere.
Pose (Sunday, 9/8c, FX): It's Christmas time, but not all is merry for the funky denizens of the House of Evangelista—especially for Angel (Indya Moore), who's chafing at her status as Stan's (Evan Peters) "other" woman in her "Back Street" pad. In a sobering reminder of the 1980s' AIDS crisis, dance instructor Helena St. Rogers (Charlayne Woodard) visits an ailing protégé, then gets fed up with Damon (Ryan Jamaal Swain) when he doesn't live up to his potential at practice. "Time is not your friend," she warns him. But there's always time to open Christmas presents, providing a sweet and sentimental finish to another dazzling episode.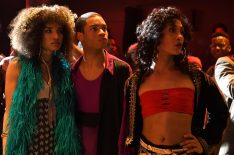 See Also
James Van Der Beek, Billy Porter, and more on what they hope people take away from the groundbreaking series.
Inside Weekend TV: America's Got Talent's Howie Mandel shares his favorite funny animal videos on Nat Geo WILD's Howie Mandel's Animals Doing Things (Saturday, 9/8c)… In the Reelz special Grease: Behind Closed Doors (Saturday, 9/8c), co-stars tell stories from the making of the 1978 musical blockbuster… Showtime's excellent docu-series The Fourth Estate (Sunday, 10/9c) finishes its fly-on-the-wall look at The New York Times' coverage of the current administration, with the newspaper's investigative team probing the Robert Mueller probe. And amid a flurry of headlines about workplace sexual harassment, a reporter faces allegations of past misconduct.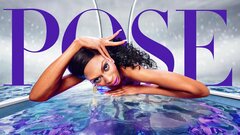 Pose
where to stream