'Shades of Blue' Final Season: Jennifer Lopez on What She's Learned From Harlee
Shades of Blue fades to black in just 10 more episodes.
The NBC police drama wraps up the high-stakes action involving single mom Harlee Santos (Jennifer Lopez), a bribe-taking, perp-framing NYPD detective who got caught and was forced by the FBI to inform on criminal mastermind and father-figure boss Lt. Matt Wozniak (Ray Liotta).
"It's such an exercise in human nature and how good people make bad choices and struggle to take the high road," Lopez says of playing this character.
Perhaps Harlee's biggest bad choice? Killing abusive ex-boyfriend Miguel (Antonio Jaramillo) in self-defense, an act that now threatens to destroy her and the life she built with teen daughter Cristina (Sarah Jeffery).
Lopez gives TV Guide Magazine a preview of Harlee's road ahead.
As an executive producer, you had a say in when Shades ended. Why was now the right time?
Jennifer Lopez: It was a hard decision and I was melancholy the day we announced it. I wish I could do it for seven years, but I can't with everything else going on.
I did both Shades and my Vegas show [All I Have, her residency concert at Planet Hollywood] for three years. My kids are 10. That's a big consideration for me. We put things on hold in life. We're like, "OK, we can do this! We'll push that there, push this here." But we can't.
Season 2 ended on a big cliffhanger: A badly injured Harlee escaped from her stalker/anti-corruption task force handler, FBI agent Robert Stahl (Warren Kole), and Wozniak was shot point blank. What's next?
You'll see who survives and who doesn't. This whole season deals with the aftermath of what they've gotten themselves into up until this point. That goes for Stahl as well.
He'd better watch out. Harlee has killed to protect people. She recently finished off a mobster to avoid a scandal for her boyfriend, Assistant District Attorney James Nava (Gino Anthony Pesi). How is she coping?
Not well! It's a different Harlee this season. She's a tiny bit more fragile than you're used to seeing her. But she's still as tough as nails.
She's super tough with Wozniak. You and Ray Liotta don't hold back in those scenes where Harlee and Wozniak meet up in his garage and butt heads.
Wait for the garage scenes this time! Ray and I never know where it's going. We talk about those scenes so much: What are we saying and doing? Wozniak wants things to stay as they are. Harlee wants things to get better.
They love each other unconditionally like father and daughter, but have disdain for what they do to each other. It's a dysfunctional, abusive relationship that she's used to being in with men.
Do you identify with Harlee at all?
What I shared with her from the beginning was being a mom, being way too loyal sometimes, and the physicality: the chases and action. I was an athlete when I was a little girl and I'm a dancer. I have bruises, cuts and scrapes everywhere — I'm that girl!
Did you learn anything from playing her?
I'm not tough like her. People see me as strong, but I'm super sensitive. I'm mushy, like on American Idol. [Lopez judged the talent show during Seasons 10, 11, 13, 14 and 15.] So Harlee made me stronger.
I'm more resolute in my decisions about how I want to live my life and be treated. She is a complicated, complex character that really got under my skin.
Are you happy with how her story wraps up?
How can I say this without giving it away? There is a resolution. It's just how Harlee would have wanted it: hard but vulnerable, beautifully tragic. It ends nicely. When you see it, you're going to feel the same way.
Did you swipe any souvenirs from the set?
You know, we made the decision [to end the series] after we wrapped the third season, so I have not been back to get anything of Harlee's.
Would you do another scripted television show down the road?
Yeah, I'd do scripted TV again. I don't know that I'd sign to do years and years and years. Maybe a 10-episode limited series. That would be more ideal. I want to get into writing and directing and producing more. But I need more time!
Shades of Blue, Season Premiere, Sunday, June 17, 10/9c, NBC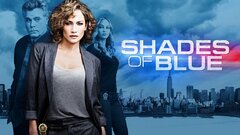 Powered by