Someone Goes Missing & More Reveals From 'The Affair' Season 4 Trailer (VIDEO)
It's been over a year since fans of Showtime's The Affair took a deep dive into these complicated characters' lives.
Luckily, Showtime has released an all-new trailer for the show's fourth season, teasing some major changes for Noah (Dominic West), Helen (Maura Tierney), Alison (Ruth Wilson), and Cole (Joshua Jackson). And it all starts with a move.
Noah and Helen appear to have relocated to Los Angeles — far from their New York origins. Helen's beau Dr. Vic (Omar Metwally) is also part of the move, and doesn't seem to ease tensions between the former married couple.
"I've upended my life to follow you here," Noah laments. "This is supposed to be a partnership, Helen, and you guys won't meet me half way."
Meanwhile, Alison is with a new man, Ben, played by Iron Fist's Ramon Rodriguez, which seems to be off to a strong start. But her ex, Cole, is in a tough place, as wife Luisa (Catalina Sandino Moreno) fears he'll leave her for Alison — despite his reassuring her to the contrary.
"I am not going to leave you," Cole insists.
"Clearly not today," Luisa responds, "Alison is busy."
Of course, Luisa's insecurities aren't misplaced as we later see Cole jumping into bed with The Originals' Phoebe Tonkin. But Cole isn't the only one getting it on — Noah is seen kissing his boss, principal Jenelle (Sanaa Lathan), and more chaos follows.
"This town, it makes me feel unsafe," Helen worries aloud. Cue tremors as she stands in her kitchen, making you think it's an earthquake. But could she just be losing it?
And then there's the biggest mystery of all — who has gone missing? "[It's been] 72 hours and no one's seen her," Noah muses aloud. Who is this "her" he's speaking of?
Check out the trailer for Season 4 below and judge for yourself.
The Affair, Season 4, Premieres Sunday, June 17, 9/8c, Showtime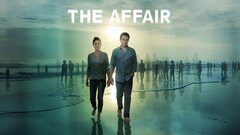 Powered by