'America's Got Talent' Host Tyra Banks Shares Her Favorite Season 13 Acts
The 13th season of NBC's America's Got Talent, airing Tuesdays, is proving to be lucky for the summertime staple. We caught up with host Tyra Banks, who shares a few of her early-season favorites.
"There are a lot of scary acts," the supermodel says, perhaps as a nod to the superstitious season number. "One that is scaring me — I'm like 'Eek!' on the side of the stage — her name is Riana, and she scares the bejesus out of me. She's like a magician meets horror movie."
Banks also previews a German performer named Hans who she thinks will become a viral sensation. "You don't want him to leave the stage. And his performance almost starts even before he gets out on the stage. Even with me backstage, we were just going back and forth almost like we were Laurel and Hardy in a full show." She admits, "I would pay money to see him. Like, in Vegas, I would pay 100 bucks to see Hans."
America's Got Talent has a history of discovering performers who integrate cutting-edge technology into their acts. And this season, "there was an act where the judges had on special virtual reality goggles," reveals Banks. "The audience didn't have on the goggles and had an amazing experience, as well. The judges had an enhanced experience, but the live audience in the room still was blown away, so I think that was pretty amazing."
See Also
He promises amazing child contestants and inspiring stories.
Banks admits that she sometimes finds herself caught up in the thrill of a performance. "There's a group of guys and they call themselves 'The Human Fountain,'" she shares. "And they do this act where they're blowing water out of their mouths in unison and in kind of like a staccato thing, to music, and it's beautiful yet hilarious at the same time. And I just was totally inspired and I ran on the stage with a bottle of water to join the fun and actually spit water into the mouth of one of the guys!"
As the host of AGT, Banks wears a lot of hats, "and a lot of wigs," the supermodel quips. In addition to occasionally joining an act, Banks is the onstage emcee and ringleader, serves as a de facto therapist for jittery contestants, and holds backstage vigils with nervous family members. "I have a very intimate relationship with them and I'm supporting them and holding them and hugging them through tears and through excitement. It's a much different experience than the judges have," the hands-on host shares.
Banks says that her closeness with the contestants has led to a new appreciation of why international talent flocks to the series. "Every person that I talk to backstage says that this is the biggest show in the world, and that's why they're here. And they could be from Romania or Spain, or Buenos Aires, or Kenya, from all over the world. They're like, 'I want recognition on this American stage.'"
See Also
NBC, CBS, and The CW are all adding to their lineups.
The international nature of America's Got Talent is reflected on the judges panel, too: Howie Mandel is from Canada, Heidi Klum is German, and Mel B and Simon Cowell are Brits. "I'm actually the only American, in terms of hosts and judges," says Banks, and shares that Cowell recently explained the series' global appeal by saying, "If you can make it in America, you can make it anywhere."
America's Got Talent, Tuesdays at 8/7c, NBC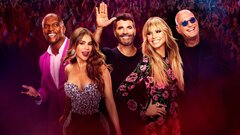 Powered by