'Galavant': Will War Get in the Way of Love on the Season Finale? (VIDEO)
What's a fig by any other name? Well according to Galavant's Gareth, a "humongous raisin."
But that's not the only thing that's upsetting the former right-hand-man-turned-king (played by Vinnie Jones). As the exclusive clip below shows, he's also having some problems in the love department as he and Madalena (Mallory Jansen) don't seem to be quite on the same page in regards to the battle they plan to wage, not to mention the vacation they plan to take—and it might have something to do with the D'DEW (Dark Dark Evil Way).
RELATED: (Photo) Weird Al Yankovic Is Returning to Galavant
Elsewhere in the double-episode finale, Galavant and Richard (Joshua Sasse and Timothy Omundson, respectively)—plus lizard dragon Tad Cooper—will be riding to the rescue of Princess Isabella (Karen David) and the people of Hortensia as they prepare to face Gareth and Madalena's Valencian army, pots, pans and all.
[jwplatform g4kjIaui]
The Season 2 finale of Galavant airs Sunday at 8/7c on ABC.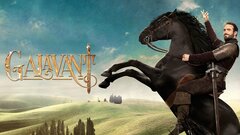 Powered by