2018 CMT Music Awards, Mira Sorvino in 'Condor,' 'The Fosters' Final Chapter
CMT Music Awards (CMT, 8/7c): Who could steal thunder from the country music celebration's usual nominees, like Carrie Underwood, Blake Shelton and (this year's hosts) Little Big Town? First-timers such as Justin Timberlake, Ludacris and, yes, even the Backstreet Boys, who are up for Performance of the Year!
The Fosters (Freeform, 8/7c): Tonight brings the final chapter of the three-night series finale, in which, after hitting some major roadblocks in Turks & Caicos, the family worries the wedding between Brandon (David Lambert) and Eliza (Abigail F. Cowen) will never happen. Ultimately, it's up to the moms to make a big choice that will have major consequences on the family.
Condor (Audience Network, 10/9c): Wednesday brings the series premiere of the present-day TV adaptation of the 1974 novel, Six Days of the Condor. This thriller stars Max Irons as young analyst Joe Turner who accidentally uncovers corruption and ties to terrorism deep within the CIA. He's forced to go on the run to avoid facing Mira Sorvino's investigator Marty Frost, who is hot on his trail. Also chasing him down? A mercenary played by Brendan Fraser.
Code Black (CBS, 10/9c): There's no better time to tune into the medical show than now — #SaveCodeBlack! In this third episode of the final season, Rox (Moon Bloodgood) tries to fix her relationship with her former step coach, who shows up to Angels Memorial with her current team after a pyramid stunt gone wrong. Also, Noa (Emily Tyra) aims to convince Leanne (Marcia Gay Harden) and Campbell (Boris Kodjoe)to not perform an emergency hysterectomy on a teenager suffering complications postpartum.
Reverie (NBC, 10/9c): If you liked the premiere of Sarah Shahi's new sci-fi series, the second episode will pull you in even deeper. This week, after a client becomes addicted to a "Jane Bond" adventure, Mara (Shahi) has to reassemble the missing pieces in her life in the hope of saving her. Unfortunately, Mara is also dealing with some pretty major side effects of Reverie…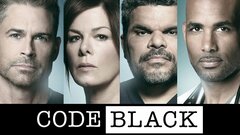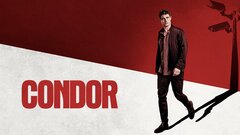 Condor
where to stream
Reverie
where to stream