Mira Sorvino Dishes on 'Condor' and Going Toe-to-Toe With William Hurt
On Audience network's new thriller Condor — a present-day adaptation of the 1974 novel Six Days of the Condor — it's nearly impossible to distinguish the good guys from the bad, which is especially disturbing considering that nearly all the characters are connected to the CIA.
When idealistic young analyst Joe Turner (Max Irons) inadvertently uncovers internal corruption and ties to terrorism, he's forced to go on the run as a fugitive — and battle-hardened investigator Marty Frost, played by Oscar winner Mira Sorvino, is enlisted to chase him down.
(She won't be the only one on his tail: An unstable mercenary portrayed by Brendan Fraser is among the others who want Joe contained.) Here, Sorvino debriefs us on the spy games ahead.
Marty is brought out of semi-retirement to head up this manhunt, and high-ranking CIA official Bob Partridge (William Hurt) clearly isn't thrilled to see her. What gives?
Mira Sorvino: She's sort of Bob's nemesis. She had a romance with him years ago, and he dropped her like a hot potato, so whenever Marty finds an opportunity to have power over him or block his wishes, she definitely takes it.
What was it like filming those adversarial scenes?
I loved going toe-to-toe with William — it felt very organic and lively, like a real volley. When we first met, I was intimidated because…he's William Hurt!
This series raises questions about the true nature of patriotism. Can anyone in the mix be trusted?
The show is set up to be sympathetic to Joe, but no one is completely lily-white. Everybody absolutely has an agenda. There's a cost to what these characters are doing, and the first casualty is their consciences and morality. Democracy and stability are hanging on a very, very slender thread.
Condor, Premieres Wednesday, June 6, 10/9c, Audience Network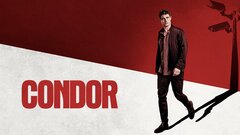 Condor
where to stream
Powered by