'The Wrong Son' & 4 Other TV Movies About Messed-up Families
It might seem as if Lifetime has exhausted every possible kind of dysfunctional family member as fodder for its original movies, but the creeps keep coming.
In Sunday night's The Wrong Son, presumed-dead Matt (David Garelik) returns to his family after 13 years. Then suspicious things start to happen, alarming mom Sarah (Olivia d'Abo).
See Also
Four of the former CW show's stars will feature in 'The Christmas Contract.'
Here are some other entries in this squirmy "genre."
KILLING DADDY, 2014 (Lifetime Movie Club)
Callie (Elizabeth Gillies) has long blamed her father, George (William R. Moses), for her mom's death. So when he suffers a stroke, Callie aims to take advantage of his vulnerable state and, well… vjust reread the title.
LIES MY MOTHER TOLD ME, 2005 (DirecTV)
A grifter (Joely Richardson) cons a wealthy lawyer (Colm Feore) into marrying her, then kills him and goes on the run with her daughter (Hayden Panettiere). Now this is what you call setting a bad example.
See Also
The network hopes to give a voice to women who have allegedly been abused by the R&B star.
PSYCHO BROTHER-IN-LAW, 2017 (DirecTV)
He's handsome. He pays compliments. He whips up smoothies. Unfortunately, David (Zack Gold) is also a nutjob who will stop at nothing to make his brother's wife (Brittany Falardeau) fall for him.
A SISTER'S NIGHTMARE, 2013 (Google Play, iTunes)
Police officer Jane (Kelly Rutherford) freaks when older sis Cassidy (Natasha Henstridge) — fresh from a 16-year stay in a mental institution — shows up wanting to bond. Beware the knife Cassidy keeps hidden in her boot!
The Wrong Son, Movie Premiere, Sunday, June 17, 8/7c, Lifetime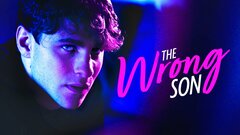 Powered by