Lifetime Announces Docuseries & Movie About R. Kelly's Alleged Victims
Lifetime announced Monday that it's moving forward with production on two new projects: an investigative docuseries and a feature movie about the women who have allegedly been abused sexually, mentally, and physically by R&B star R. Kelly.
The network is "partnering with advocacy groups and influential thought leaders" and providing a "platform to give women a voice where they have previously been unheard," according to a press release.
See Also
He faces multiple allegations of sexual harassment.
"Under the initiative, the first of these projects seeks to shed a light on controversial R&B star R. Kelly, whose history of alleged abuse of underage African American girls has until recently, been largely ignored by mainstream media," the release continued. "In a ground-breaking, bombshell documentary series and untitled feature movie, women are emerging from the shadows and uniting their voices to share their stories."
Activist Dream Hampton will executive produce the series and Emmy Award-winner Ilene Kahn Power is slated to executive produce the movie.
See Also
The news anchor is reportedly set to host a series interviewing men outed for sexual harassment.
"What we've seen — in the last year in particular — is the tremendous power of women's voices when given the opportunity to share their truth," said Brie Miranda Bryant, SVP, Unscripted Development and Programming, Lifetime. "But there are important stories still untold, stories of bravery, resilience and defiance that demand to be heard. This is one of those stories."
These projects are part of Lifetime's re-launch of its Emmy-winning public affairs campaign, STOP VIOLENCE AGAINST WOMEN.
Recently, a Twitter campaign was started in alignment with the #TimesUp Legal Defense Fund to #MuteRKelly because of the years of abuse and assault allegations he's faced that have gone unnoticed.
We join the call to #MuteRKelly and insist on the safety + dignity of all women. We demand investigations into R. Kelly's abuse allegations made by women of color + their families for two decades. We call on those who profit from his music to cut ties. #MuteRKelly #TIMESUP #WOC pic.twitter.com/TYmDRVIH00

— Ava DuVernay (@ava) April 30, 2018
An open letter by the women of color in @TIMESUPNOW imploring people everywhere to #MuteRKelly: https://t.co/UL2cYivYc1 #TimesUp pic.twitter.com/birxUwgmHp

— The Root (@TheRoot) April 30, 2018
We join the call to #MuteRKelly and insist on the safety + dignity of all women. We demand investigations into R. Kelly's abuse allegations made by women of color + their families for two decades. We call on those who profit from his music to cut ties. #MuteRKelly #TIMESUP #WOC https://t.co/RTco2ZeetZ

— shonda rhimes (@shondarhimes) April 30, 2018
I stand with the women of #timesup#muterkelly. https://t.co/B0yaRj7zdZ

— John Legend (@johnlegend) April 30, 2018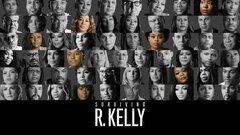 Powered by