Michelle Wolf Hilariously Parodies 'Strong Female Lead' Cliches in Netflix Sneak Peek (VIDEO)
Michelle Wolf has made splash in the comedy world and will continue to do so with her new Netflix series The Break with Michelle Wolf.
The former contributor and writer for Late Night with Seth Meyers and The Daily Show with Trevor Noah is now hosting her own weekly half hour variety/sketch series which premieres on May 27, so get ready for less seriousness and more ridiculous antics, plus a few celebrity guests.
See Also
Her monologue divided Twitter over the weekend.
To give fans a taste of what to expect on The Break, Wolf created a faux movie trailer called Featuring a Strong Female Lead: The Movie, where she plays — guess what?! — a strong female lead who's tough enough to hang with the boys.
Check out the hilarious sneak peek below:
The Break with Michelle Wolf, Series Premiere, Sunday, May 27, Netflix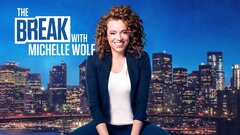 Powered by