Praise Rao! Syfy Has Renewed 'Krypton' for Season 2
A day before its spectacularly filmed and action-packed first-season finale, Krypton has been given the greenlight for a second season on Syfy. And that is just, well, super.
The fast-paced, gorgeously crafted drama — set generations before the birth of Superman and the famed planet's big bang — launched earlier this year as the network's highest-rated premiere in three years.
Since then, Krypton has soared through a season that has seen Supe's grandfather Seg-El (Cameron Cuffe) navigate his home city of Kandor's shady political and religious guilds while juggling a forbidden romance with Lyta-Zod (Georgina Campbell), an arranged engagement to Nyssa-Vex (Wallis Day), and the impending threat of world domination by Brainiac (Blake Ritson), as foretold by time-traveling superhero from Earth, Adam Strange (Shaun Sipos).
Oh, and legendary DC Comics villain General Zod (Colin Salmon) also showed up from the future. And Doomsday is currently being held in storage.
All of this makes Wednesday night's Season 1 finale, "The Phantom Zone," a major event for fans, especially since the final moments set up not just where the show is heading when it returns in 2019, but also firmly establishes where the Last Son of Krypton got his heroic genes.
Krypton, Season 1 Finale, Wednesday, May 23, 10/9c, Syfy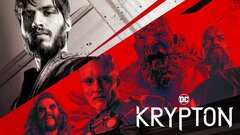 Krypton
where to stream
Powered by