NBC Sets Date for 'You, Me and the Apocalypse', Starring Rob Lowe, Megan Mullally and Jenna Fischer
You, Me and the Apocalypse will make its U.S. debut on Thursday, Jan. 28 at 8/7c, NBC announced.
The dramedy—which aired this fall in the U.K.—follows the fallout of the news that a comet is on a collision course with the Earth–about the last days of mankind. With only 34 days left to live, how will people react?
RELATED: 30 New TV Shows Debuting Midseason
The series stars the ever-ubiquitous Rob Lowe, plus a mix of American and British actors, including Megan Mullally (Will & Grace), Jenna Fischer (The Office), Joel Fry (Game of Thrones), Pauline Quirke (Broadchurch) and Kyle Stoller (Poldark), Gaia Scodellaro, Mathew Baynton and Paterson Joseph.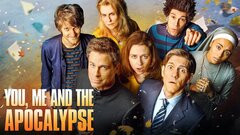 Powered by