'Dietland' Star Joy Nash on How the AMC Series Fights Back Against Fat-Shaming
Plum Kettle (Joy Nash), the heroine of AMC's dramedy Dietland, is a lonely young woman who ghostwrites a column for a hot fashion magazine.
Her only joy comes from baking scrumptious desserts that she then won't eat because she's been labeled obese. Frustrated by years of failed diets, Plum has decided to have weight-loss surgery. "She's been waiting for her life to begin, which she thinks will happen when she's skinny," says Nash. Her thinspiration? The magazine's self-obsessed and manipulative editor, Kitty (The Good Wife's Julianna Margulies).
See Also
The actress returns for her first role after CBS's 'The Good Wife.'
Fans of Sarai Walker's 2015 novel on which the series is based know that Dietland is more dark satire than chick lit. "When I saw the book's cover — a cupcake with a grenade pull — I knew I had to get the rights," says executive producer Marti Noxon, who also cocreated Lifetime's UnReal.
Before Plum goes under the knife, her self-described boring life heads in an unexpected direction. It all starts after she meets Julia (Tamara Tunie), a colleague who goes to extreme lengths to help young women. Julia gets Plum involved with those fighting back against fat- and slut-shaming, sexual harassment, and rape, sometimes peacefully and sometimes through bloody retribution.
Even though the subject sounds grim, "the show is really entertaining," Nash promises. "It's the spoonful of sugar we deliver your medicine with. Hopefully you'll be having fun watching and then find yourself going, 'Oh, wait, I have said those [hurtful] things. Why do I treat people that way?'"
Dietland, Premieres Monday, June 4, 9/8c, AMC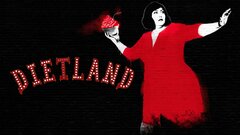 Powered by