'Ally McBeal' Creator David E. Kelley Is All For a Reboot of the Series
Could it be time to add yet another former TV favorite to the growing list of reboots? We could all stand to revisit Ally McBeal, according to creator and current Big Little Lies scribe David E. Kelley.
This week, Kelley reminisced about his former show, which starred Calista Flockhart (Supergirl, Brothers & Sisters). The writer didn't express any direct interest in working on the project, but of all the shows he's worked on, Kelley believes that Ally McBeal fits the timely bill.
"I don't really have an interest in going backward, myself," Kelley told The Hollywood Reporter, . "In fact, I've not even seen the shows after I've made them," he revealed. Kelley, who worked closely with the recently-passed Steven Bochco, contributed to and created shows like L. A. Law, Chicago Hope, The Practice, Boston Legal, and Doogie Howser, M.D.
"I do think because of the gender politics that were so part and parcel of Ally McBeal," Kelley continued. "It's become very relevant and ripe. So, I'd be open to the idea of Ally McBeal being done again, but I don't think it should be done by me."
So who would Kelley prefer to take over the reins? According to his answer, a female's perspective is best illustrated by a woman. "If it were going to be done, it really should be done by a woman," he said. "If it's going to be new, it should be new and different. And I did it: 100 hours."
So with the creator's blessing, a reboot could be around the corner. Until then fans will have to wait patiently and hope that the idea takes root in Hollywood.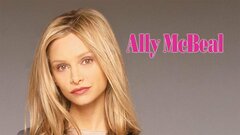 Powered by