Michael C. Hall Says Netflix's 'Safe' Is a 'Unique Fusion' of Thriller & Family Drama
Golden Globe-winning Dexter star Michael C. Hall is taking on a much more "regular" role in the new Netflix drama series, Safe.
He plays surgeon Tom Delaney, a grieving widower whose world is turned upside-down when his teenage daughter goes missing after attending a party in their U.K. neighborhood. In the frantic search for his daughter, Tom uncovers a web of lies and secrets right in his own backyard that are as stunning as they are sinister. The show ultimately leaves viewers wondering: How far will we go to protect our families?
The actor talked with TVInsider.com about his return to television in Safe.
TV Insider: This is your first TV lead role since Dexter ended in 2013. Why this part and this series?
Michael C. Hall: I was working in the U.K. on stage and was interested in doing something else over there, and was sent the script and thought it was fantastic. It was well-written — I thought the dialogue was great, and I thought the story structure was really amazing.
I also relished the chance to do something on-camera in the U.K. with a British crew, to play an Englishman and a regular guy.
What makes this crime drama stand out?
I think it's a unique fusion of different elements. It's a thriller, but it's also a family drama. Tonally it's not completely severe and heavy — there's a good amount of levity in spite of the dire situation.
How did you adjust to learning the accent?
I think a certain degree of fear is good to have when you go into something, but I was also excited by the challenge of it. I took time to prepare it and worked with a guy who helped me out.
There are multiple timelines… was that hard to film for you?
Not only that, but we shot the first two episodes as one block, and then we shot the third, fourth, and sixth in another, then we shot the fifth, seventh, and eighth.
So, yeah, you really had to stay on top of what you did and didn't know, because the journey of character was one of discovery. So, I had to think, "Wait, what have I discovered? What do I need to discover?" But that's part of the fun of it… you're constructing the performance on the fly.
This role as widower/father is very different from your previous one as a serial killer. Was this intentional? Which did you like playing more?
I was definitely interested in playing an "everyman" type of character, and Tom is definitely that. So I am more drawn to that than to an arguably psychotic person. I think I try to be in the present and be oriented towards the future, so the character I'm currently working on is usually the most fun.
Obviously, Tom and Dexter are very different, but the fundamental questions you have to ask yourself as an actor are quite similar. They just have very different answers.
What was it like working with Amanda Abbington? Had you watched Sherlock prior to working together?
I'd never seen Sherlock, so I was able just to accept Amanda as her character. It was great. She is a fantastic actress and person and has a wonderful sense of humor. With her and the cast and crew of this show, I think I laughed more on this set than I have on any job I've ever done.
Your character tracks his daughter's text messages; do you think that's over-the-top parenting?
I think living in the world today where social media plays such an increasingly central role in the lives of young people, and [it's] a thing that makes parents feel all the more alienated from the real lives of their children, it's completely understandable that someone would do such a thing. I don't think that I would advocate it, though.
Obviously, if your kid is in some sort of danger, to take extreme measures may be more justified, but I think we live in a world where maybe we're seduced into believing there's more danger than there really is.
This show comments on the illusion of safety both physical and online. Do you think more shows will be addressing that theme?
I think so, because it's a really dominant part of people's experience. They have online personas, they have relationships, and I think it would only make sense if that becomes more of a part of the stories we tell.
I think in the world of this show and in the real world, people have the person they present to the world, but that's not who they really are, and the secrets they really keep are something else. Tom, throughout the show, comes to realize that no one in his world is quite who he imagined them to be.
Do you prefer a TV series which allows you to develop a character for longer or a movie?
I like doing both. In a TV series, there's an opportunity to develop a more complete and sustained portrait of someone. Ideally, I'd love to do both, because doing one reinforces your appreciation of the other.
What projects are you working on next?
I'm currently shooting a movie in New York called The Torture Report, and I'm also currently in the midst of negotiating a film that I may do in July and August.
Safe, Series Premiere, Thursday, May 10, Netflix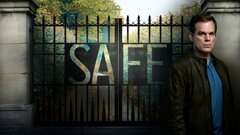 Safe
where to stream
Powered by