'Big Bang Theory': What Wedding Gift Did Stephen Hawking Send to Sheldon and Amy? (VIDEO)
As if last night's hilarious and heartfelt season finale of The Big Bang Theory wasn't enough for you (if you've been sleeping under a rock, Sheldon (Jim Parsons) and Amy (Mayim Bialik) tied the knot!), the producers of the long-running CBS hit have something else in store.
The March death of Stephen Hawking hit everyone hard but given the timing of filming network television, the show hadn't had a chance to pay tribute…until now. In fact, the below clip was intended to be a part of Thursday's season finale but was cut due to time restraints for the episode.
See Also
EP Steve Holland gives the scoop on that, plus the work that went into Sheldon and Amy's big TV wedding.
However, so audiences could see it, CBS has released the clip as a tribute to Hawking. As you'll see, the genius theoretical physicist, who appeared on the show in person in the season five episode, "The Hawking Excitation", as well as other episodes in one form or another (in the season six episode, "The Extract Obliteration", for example, only his voice was heard), was near and dear to the characters in the show and the show itself. And, of course, Hawking knew to send a wedding gift to Sheldon and Amy sooner than later.
Watch the clip below and prepare to be touched all over again.
In this exclusive, unaired clip from last night's season finale, the happy couple gets one last gift from #StephenHawking. 💕 #BigBangTheory pic.twitter.com/xgpU7G7Wpw

— The Big Bang Theory (@bigbangtheory) May 11, 2018
The Big Bang Theory returns for its twelfth season this fall on CBS.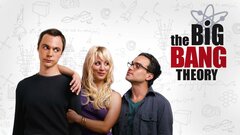 Powered by