Will Arizona or April Die in the 'Grey's Anatomy' Season 14 Finale?
Fans have been dreading saying goodbye to Grey's Anatomy stars Jessica Capshaw and Sarah Drew since their Season 14 exit was announced, and now they're just days away from the big episode.
So how will fan favorite characters Arizona (Capshaw) and April (Drew) fare? Whenever an exit is announced for longtime characters on any show — nonetheless, a Shondaland show — the fear of an untimely death is always looming. So it's not surprising that fan's minds to go to that place in this case.
In a recent interview with Entertainment Tonight, the show's title star Ellen Pompeo, aka Meredith Grey, spoke about the upcoming Season 14 finale, and what viewers can expect in the case of Arizona and April's last episode.
"You only get killed off when your behavior is bad. If you're a nice actor, you die nice," Pompeo quipped to ET. Whoa — talk about a dig at those who have been killed off, including Patrick Dempsey (Derek Shepherd), T.R. Knight (George O'Malley), Chyler Leigh (Lexie Grey), and Eric Dane (Mark Sloan).
See Also
Ellen Pompeo and the producers are already contemplating the grand finale.
The bottom line: Both Capshaw and Drew have been publicly praised by their costars, so being killed off is unlikely. That said, Pompeo's other comment about "you die nice" if you're nice is a little concerning. It doesn't sound like fans will have to endure an unhappy ending for either character though.
"So these endings aren't tragic," Pompeo continued, assuring fans that there's little to worry about in regards to April and Arizona. The actress also admitted that the surprising exits have been tough for everyone on set.
See Also
Even though Shondaland's 'Scandal' is over, there's no end in sight for the staff at Grey Sloan Memorial.
"My first reaction was, 'What? What do you mean? Why?' And then you go through levels and stages of grief. It's hard for them, it's hard for us, it's hard for the writer who had to make the choice," said Pompeo. "You have to try to support the girls. It's just not easy for anyone, but I don't want to make it about me. It's about them and I just tried to be just as supportive as I could be to everyone involved."
So, while Pompeo's words aren't a definitive confirmation, there's hope that Arizona and April will have a satisfying departure. Catch their exit in the May 17 episode of the medical drama.
Grey's Anatomy, Thursdays, 8/7c, ABC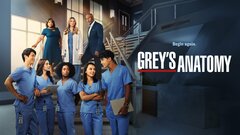 Powered by