Ask Matt: 'The Blacklist's Baby on Board, 'Legends of Tomorrow' vs. 'Doctor Who', 'Agent Carter' and More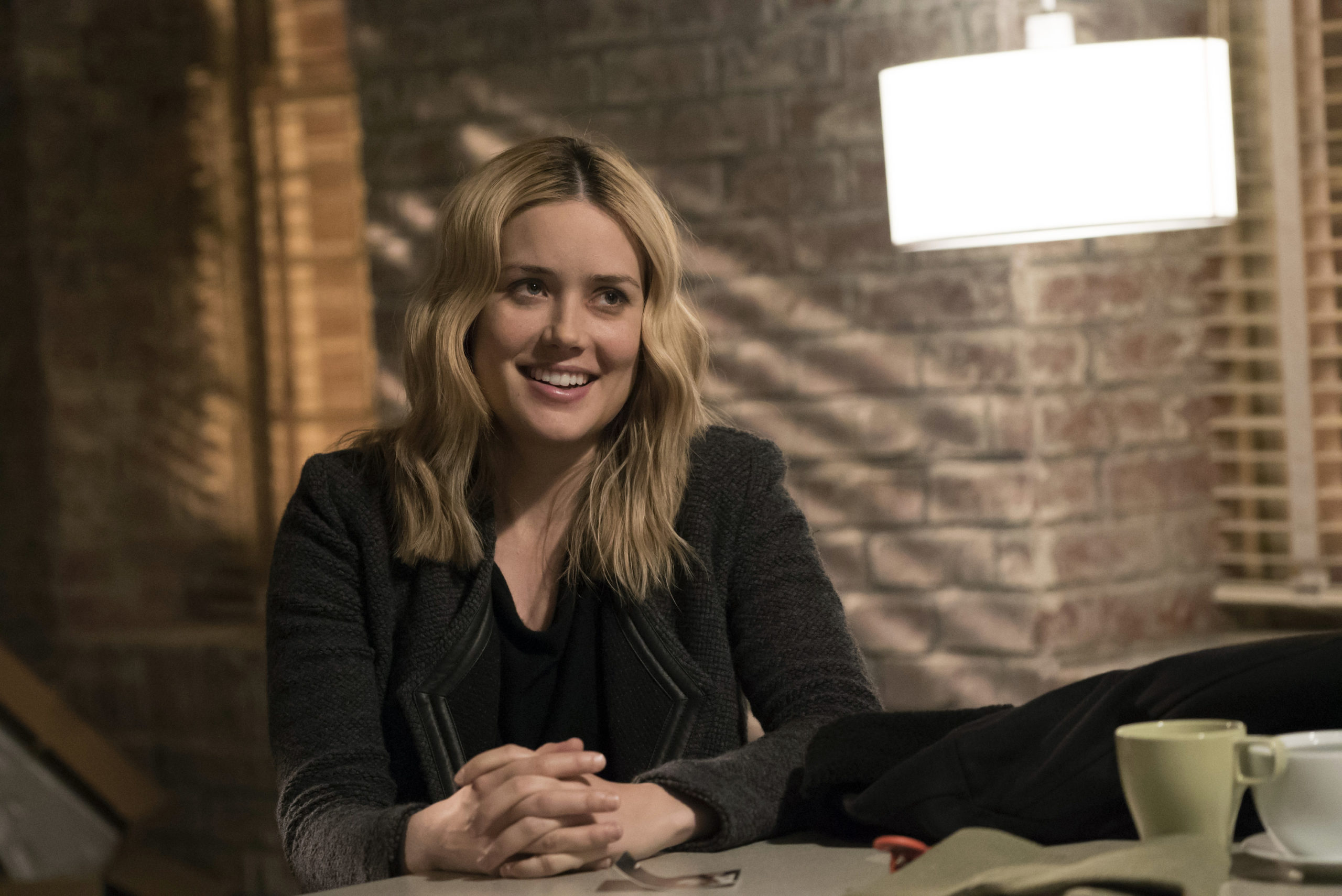 Welcome to the Q&A with TV critic (also known to some TV fans as their "TV therapist") Matt Roush, who'll address whatever you love, loathe, are confused or frustrated or thrilled by in today's vast TV landscape. One caution: This is a spoiler-free zone, so we won't be addressing upcoming storylines unless it's common knowledge. Please send your questions and comments to [email protected] (or use the form at the end of the column) and follow me on Twitter.
Question: Now that we know that they are writing Megan Boone's pregnancy into the storyline on The Blacklist, do you think it will affect the show? Lizzie's lifestyle and her shaky relationship with Tom just doesn't seem like a good environment to be raising a child in. I personally was hoping they wouldn't write it in and hide her pregnancy and have Lizzie wear a lot of black clothes like she has been lately. — Natalie
Question: Just finished the latest episode of The Blacklist with the "bombshell" news that Liz is pregnant. Latest in a long line of shows using this annoying plot device (Grimm last season, Bones not long before). Why do shows always seem to think they need to bring a baby into shows where one really isn't needed? – Jay
Matt Roush: Producers have two options when a leading lady gets pregnant: mask it or use it. In a show this action-oriented, with such a twisted and murky backstory for its heroine, it probably makes more sense to include it, in part because it will only intensify Red's mysterious bond with Liz and her own complicated feelings about wanting a family. It's not as if Blacklist's characters will suddenly become as domesticated as Booth and Brennan on Bones. This isn't that type of procedural. A baby on board will certainly complicate things, but new life is a part of life and often affects long-running shows. Sidelining Liz during the actress's pregnancy might have been even more problematic. If this raises the emotional stakes on the show, it might even be the proverbial blessing in disguise.
---
Who Came Up With Legends' Premise?
Question: I enjoyed the pilot of DC's Legends of Tomorrow as a—like your review said—turn off your brain and enjoy the ride type of show. Though let me get this straight about the backstory. The Last Centurion/Rip Hunter steals the TARDIS/Wave Runner from the Time Lords since they argue for non-interference and heads out through space and time to save humanity. Could they maybe have gotten a little more creative? At least Alex Kingston has already been cast as Sara's mother (on Arrow) so she can't be his wife (though with time being all wibbley-wobbly timey-wimey I guess we can't rule that out, either). — Jason
Matt Roush: Very funny. Even if the casting of Arthur Darvill (once upon a time our beloved Rory) didn't already set off Who-vian vibes, the set-up was awfully derivative—not just of Doctor Who but of Guardians of the Galaxy in the eclectic, goofy, mismatched nature of the ensemble. [Editor's note: DC Comics created Rip Hunter in 1959, four years before Doctor Who premiered.] If you're looking for originality, this may not be the show for you. But I did enjoy this Thursday's episode more than the pilot, especially when Dr. Stein (Victor Garber) encounters his younger self back in 1975. You could do worse if you're looking for fun escapism. You could also do better (see the next question).
---
Make a Date With Agent Carter
Question: Do you recommend Agent Carter? – Gloria
Matt Roush: Most definitely. I wasn't able to watch last week's two-hour opener in advance—it's been a killer month of non-stop premieres—but when I caught up with it, I found the move to 1940s Los Angeles even more appealing than the first season. The look, the tone, all very nostalgic even when the show is progressive enough to flirt with a mixed-race romantic entanglement. Hayley Atwell brings an unexpected edge to Peggy Carter and James D'Arcy is delightful as her eager but fussy sidekick, Jarvis. As the newly transplanted L.A. Chief Sousa, Enver Gjokaj has been a favorite since Dollhouse days. This is a perfectly enjoyable light fantasy entertainment, and the time commitment isn't even that extreme. (Carter is filling in, as it did last year, for Agents of S.H.I.E.L.D., which returns March 8.)
---
Does Teachers Pass or Fail?
Question: Oh man, your review of Teachers is right on! As we say in the South, it ain't right! But it's awesome. — Frank
Matt Roush: Glad you like it, though I'd hope you're not surprised to learn that something as extreme as this new TV Land comedy wouldn't be for all tastes. For example …
Question: I admire you for making it through the Teachers pilot. It probably was one of the few "comedies" I couldn't help but shut off after 20 minutes. (The pilot was available On Demand.) It really made me sad for the TV Land network, which seems to want to compete for this juvenile demo that doesn't watch much TV except for Kardashian and Marvel-produced shows. (I exaggerate, I know.) What was so bad about producing lightweight multi-camera comedies for the aging baby boomers? I do appreciate their other new offerings, but still, I think if there were one network that could be created for the over-40 crowd out of all of the hundreds of cable stations, this would have been the perfect one to do so. — Mark
Matt Roush: Merits of Teachers aside, which at best is a very guilty pleasure, Mark makes an interesting observation that I'm sure many share about the current wave of cable networks rebranding themselves—sometimes for better (see USA's Mr. Robot), sometimes not, but inevitably unsettling the channel's original core audience. TV Land is going through one of the more noticeable transformations. You'd probably never guess that the saucy Younger (currently TV Land's best original series) came from the same network that gave us Hot in Cleveland—or, more to the point, painfully retro duds like The Exes—and it's obvious the goal is to attract a younger, hipper following. Which to some extent will make TV Land, at least in its development of original series, indistinguishable from many others. I like Younger a lot, but I also feel kind of sad to see TV Land chase the same fickle crowd as everyone else.
---
Taking a Cheap Shot at War and Peace
Question: In your War and Peace review, you made an unjust comparison between the A&E/Lifetime/History miniseries and the off-Broadway musical adaptation Natasha, Pierre & The Great Comet of 1812. Although both the play and the TV adaptation are set in the War and Peace universe, they are set in different stages of development of the characters' lives. The events in the musical take place some time in episodes 3-4 of the miniseries, five years after the first episode. The Natasha, Andrei, etc, that you encountered in the episode 1 are not the ones you see in the musical. Even Dave Malloy (author of the musical) and Andrew Davies (miniseries writer) themselves must realize how different interpretations can be. Had you compared the series with the 2007, 1972 or 1956 versions, it would be more credible, because they're in the same medium. Or you'd be better off suggesting your readers read the book—at the risk of sounding snobbish, of course. — Astrid (adapted from Twitter)
Matt Roush: That's what I get for trying to be a bit too clever, or maybe just showing off, in my reference to the Natasha, Pierre musical (one of the high points in my theatergoing of recent years). Obviously, I know the musical is just taking a slice of the War and Peace story—otherwise, we'd have been there for days—but I watched the entire miniseries before writing that review, and during the segments that overlapped the action of the musical, I found myself humming to those melodies and wishing I were back there instead of being trapped in this mostly pedestrian retelling. (I will recommend Night 2, which premiered Monday, mostly because it was partly filmed in the Amber Room of Catherine Palace, which I was lucky enough to visit on my one trip to Russia, and it's spectacular; plus it's probably also the most enjoyable part of the story.) I've only seen one prior film version of the story—the 1966 Russian adaptation, when it aired on TV as a miniseries a long time ago—so didn't feel equipped to compare it to other movies or TV treatments. And of course the book is the best way to go, to experience Tolstoy's vision in its fullest. I remember when binge-reading was still a thing. Those were the days.
---
A Grace Note on Person of Interest
Question: I read that Carrie Preston is going to return as Grace in Person of Interest's season 5 for multiple episode. Can you confirm this? I also want to know if Taraji P. Henson is returning as Joss Carter as well. Nothing would be greater than to have her back for Episode 100 or the series finale. Carter and Reese need to be reunited at the very end of Person of Interest. – Maggie
Matt Roush: As far as I know, it's a yes on Grace being back on Person of Interest. I see no reason to disbelieve Carrie Preston, who mentioned this while promoting a different show at this month's TCA gathering. (Beyond that, I don't want any details spoiled.) As for Carter and Reese reuniting on POI, that would presumably have to take place in the afterlife, right? Since Carter is still most sincerely dead. And recent Golden Globe winner Taraji P. Henson wouldn't have it any other way, being otherwise engaged on a show where she's most definitely alive. (If they've written another flashback episode for Carter, as happened last season, I'm unaware of it. Again, this isn't a spoiler column, and I'm doing my best to stay in the dark about this next season of Person of Interest until it actually airs, whenever that may be.)
---
What's Behind These Mini-Marathons?
Question: Does the burn-off of four episodes of Unforgettable by A&E last Friday night spell the end of that series? — Ken
Matt Roush: Far be it from me to post this show's obituary, as Unforgettable has repeatedly escaped death—first on CBS, then on A&E, which picked it up for a fourth season after the network finally dropped it from its summer lineup (after initially canceling it). The show's studio has been particularly aggressive about keeping this series alive, but it's hard to read anything into A&E's multi-episode burn-off (of which I was unaware) besides the network ridding itself of the show as quickly as feasible. Which doesn't mean Sony won't keep trying to sell it somewhere else, though you'd think the options are by now pretty limited.
Question: What are your thoughts on USA running six hours straight of Colony on a recent Saturday afternoon? I remember years ago they did the same thing for Burn Notice. I have to admit, I watched it and now feel like I know the show better. Do you think it was a wise move? – Augustmom
Matt Roush: Again, I had no idea this happened. (I watched the first six episodes on screeners well before the Jan. 14 premiere to write my initial review, and wasn't paying attention to USA's weekend schedule. Unless they promoted this on air, this stunt flew pretty much under the radar.) However, I am noticing many more examples recently of shows making episodes, especially pilots or the first few following, available to viewers outside the regular broadcast schedule, in hopes of stimulating interest, despite whatever impact this might have on weekly ratings in the official time period. I get why they're doing this—it's harder to get noticed, even under less intimidating circumstances than this January's glut of new shows—but I'll admit I was surprised to learn in retrospect that USA had made so much of the first season available like this for an impulse binge. Times are changing, dear viewers, never doubt it.
That's all for now, but we'll pick up the conversation again soon, so please keep sharing your thoughts on new and returning series and other TV matters. I can't do this without your participation, so send questions and comments about TV to [email protected] or shoot me a line on Twitter (@TVGMMattRoush). Or submit your question via the handy form below: