Roush Review: 'War & Peace' Is a Lavish Lit Adaptation But Lacks Authenticity
The classic historical-drama miniseries isn't exactly dead—you know the type, with lavish period recreations, glamorous young actors tackling iconic figures from literature, cameos by veteran performers in smallish parts (but large billing). These sprawling epics have just migrated mostly to cable. And while the source material seems better suited to PBS's Masterpiece than to a four-week commercial simulcast on A&E, Lifetime and History, a new War & Peace aims to make Tolstoy palatable for the CW crowd.
Condensed to six hours (eight with commercials), this coproduction with the BBC and The Weinstein Company emphasizes star-crossed Russian romance—with British accents, naturally—against the looming background tumult of the Napoleonic wars. Lots of heavy sighing, and a bit of heavy petting, as the players tend to come off like petulant adolescents, thanks to an uncharacteristically sketchy and clunky script by master adapter Andrew Davies (the original House of Cards, the 1995 Pride and Prejudice, etc.). Did Napoleon really mutter, "There's more than one way to skin a cat" on the battlefield? I hope not.
The production values are impressive, with filming in Russia—including a pivotal, if choppily edited, ball sequence filmed in the stunning Amber Room of Catherine Palace—as well as Lithuania and Latvia. The battle scenes are suitably harrowing, when they arrive. But that's about it when it comes to authenticity. It's a testament to the tepid dramatics of this adaptation that you might find yourself pining to go back to combat as an escape from the clichéd swooning.
RELATED: Read All Roush Reviews of New Shows
As the principal romantic leads, Paul Dano overdoes the sensitive-nerd act as the heavy-drinking and disillusioned idealist Pierre, who seeks purpose after inheriting a fortune that launches him into a high society he's ill equipped to navigate. (Gillian Anderson is simply embarrassing as the mincing and gossiping hostess, Anna Pavlovna, who helps steer him into matrimonial disaster.) Rising star James Norton (Grantchester, Happy Valley) is dashing but dour as war hero Andrei, brooding like a Heathcliff-ian Hamlet. He's the wet blanket in any situation, which complicates his love affair with the object of everyone's affections: the simpering Natasha played by Lily James (Downton Abbey), an ingénue for all icy seasons.
"Nothing to do but endure," mutters Andrei as he trudges back to war. And so it goes with this War & Peace, which even manages to look desperate when it makes too obvious the incestuous sibling affections of the story's calculating villains: Anatole (Callum Turner), who ruins Natasha's reputation, and Helene (Tuppence Middleton), who cramps Pierre's style in an ill-advised marriage.
Of course, even a so-so version of Tolstoy's enduring and mammoth classic is bound to have its moments, and those who stick around to the tragically romantic end will no doubt be affected in the final chapters as terrible suffering leads to satisfying redemption.
But anyone seeking a truly novel spin on this warhorse should check out the dazzling original cast recording of the 2013 off-Broadway sensation Natasha, Pierre and the Great Comet of 1812 (reported to be returning to Broadway next year with Josh Groban). The dizzying prologue lays out all the complicated relationships in sing-a-long style: "Dolokhov is fierce, Helene is a slut, Anatole is hot, Marya is old-school, Sonya is good, Natasha is young and Andrei isn't here."
Simplistic, maybe, but a lot more fun.
War & Peace premieres Monday, Jan. 18, 9/8c, on A&E, Lifetime and History
---
Questions? Ask Critic Matt Roush!
TV critic (and occasional TV therapist) Matt Roush answers viewer questions and concerns in his Ask Matt column each week. Wondering about plots, characters and twists on your fave shows? Submit your query to Matt via the form below: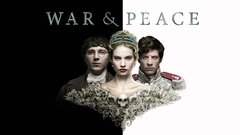 Powered by