Roush Review: An Intriguing 'Colony' Presents an Occupied Earth
Even Donald Trump might be impressed by the giant, implacable metallic wall that has gone up around an oppressed Los Angeles, isolating the city from the rest of the world—even the beach in Santa Monica is off limits—in USA's intriguing and intermittently suspenseful Colony. Equal parts sci-fi thriller and moral parable of impossible choices made under an impervious fascist regime, the show suffers at times from the same dramatic slow burn that made so many impatient with Fear the Walking Dead (in a similar balmy setting).
Picking up nearly a year after the calamitous arrival and occupation by an unseen alien force that uses human storm troopers and smarmy politicians to do its ominous bidding, Colony frames its "What would you do?" dilemma within a family led by an appealing Josh Holloway and Sarah Wayne Callies, both seasoned genre veterans (of Lost and The Walking Dead, most notably). Their lusty affection and frustrated desperation are palpable as they often find themselves at cross-purposes in a twisted scenario of deep deception, appeasement and insurgency, forced to work either for or against the euphemistic Transitional Authority and usually regretting the consequences.
RELATED: Read All Roush Reviews of New Shows
Comparisons could be made to Amazon's The Man in the High Castle, which imagines a post-World War II America under Nazi and Japanese rule with even more jarring and surreal results. Colony's loaded situation is solidly dramatized, though not always boldly enough, and the storytelling can feel too cautious and guarded in its telegraphed twists, uneven casting and pulled punches.
While one may respect the choice to keep the invaders off camera, Colony sometimes needs to feel a bit more, shall we say, alien.
Colony premieres Thursday, Jan. 14, 10/9, on USA
---
Questions? Ask Critic Matt Roush!
TV critic (and occasional TV therapist) Matt Roush answers viewer questions and concerns in his Ask Matt column each week. Wondering about plots, characters and twists on your fave shows? Submit your query to Matt via the form below: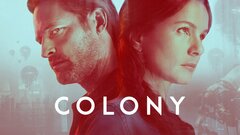 Colony
where to stream
Powered by