How Meghan Markle's 'Suits' Wedding Compared to Her Real One
Rachel Zane (Meghan Markle) and Mike Ross (Patrick J. Adams) finally walked down the aisle in the April 25 Season 7 finale of Suits. And ironically, Markle's TV wedding comes just a few weeks ahead of her real-life nuptials to Prince Harry on May 19 at Windsor Castle.
Markle's lavish, on-screen ceremony was beyond stunning, but we think her actual 'I dos' are going to look a little different, all thanks to the family she's marrying into. Here's how the two weddings will likely compare:
The Dress Code
Rachel wears a beaded, lace V-neck gown with a sheer back. Markle's design in May will be a bit more reserved given the location and more-covered up tradition carried out for centuries. Guests will have to adhere to a dress code of "Morning Coat or Lounge Suit, Day Dress with Hat," according to the invitation.
The Altar
Donna's (Sarah Rafferty) meticulous planning resulted in a gorgeous altar adorned with hanging flowers, but the altar at St. George's Chapel, Windsor Castle is more traditional, with marble and stained glass windows.
The Wedding Party
Kensington Palace just announced that Prince William will serve as Harry's best man. No word yet on who will be standing on Markle's side. Prince George and Princess Charlotte will be in party as they were when Pippa Middleton (Kate's sister) got married.
The Palace has yet to confirm who will be walking Markle down the aisle. She's had a tumultuous relationship with her father in the past, and he reportedly did not receive an invitation.
The After Party
After the ceremony, Markle and Harry will embark on a carriage ride that will take them from Windsor Castle via Castle Hill and then proceed along the High Street and through Windsor Town. After which, they will return to Windsor Castle along the Long Walk.
There will also be a wedding reception held at Windsor Castle although later in the evening there will be an intimate, family- and friends-only evening reception hosted by Prince Charles.
If you're feeling nostalgic, watch Rachel and Mike's wedding scene from Suits below:
Season 8 of Suits returns July 2018 on USA Network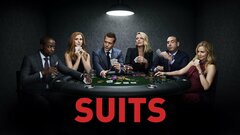 Suits
where to stream
Powered by