Amazon Greenlights 'Jack Ryan' Season 2 Ahead of Series Premiere This Summer
Well ahead of its series premiere, the new Amazon Prime series Tom Clancy's Jack Ryan starring John Kraskinski (A Quiet Place) as the title hero, has already been greenlit for an eight-episode Season 2.
Tom Clancy's Jack Ryan is described as "a reinvention with a modern sensibility of the famed and lauded Tom Clancy hero," and Amazon clearly has a lot of confidence in the yet-to-debut action series based on the incredible buzz it has already received.
Following a trailer for the series that Amazon ran during this year's Super Bowl, the service says that it saw a more than 400-percent increase in Prime members placing Jack Ryan on their watchlist.
"With so much early anticipation for Tom Clancy's Jack Ryan from our customers and personally having the pleasure to preview the exhilarating, action-packed first season, we are excited to greenlight a second season of the series months ahead of its debut," said Jennifer Salke, Head of Amazon Studios, in a release.
Salke added that, "The new season will take our unexpected hero to a new, exciting and dangerous world."
And Amazon already has a bit of detail about that new world. In Season 2, Jack Ryan "confronts the forces in power in a dangerous, declining democratic regime in South America." The second season will begin production this summer in Europe, South America and the United States, even as Season 1 just becomes available to viewers.
Returning with Krasinski, who also serves as an executive producer, for Season 2 of Jack Ryan will be co-star Wendell Pierce (The Wire), reprising his role as James Greer. Series creators Carlton Cuse (Lost, Bates Motel) and Graham Roland (Fringe, Prison Break) will continue to serve as co-showrunners.
"We're thrilled that the first season has generated so much enthusiasm," stated Cuse in the release. "We couldn't be happier to be working with Amazon and to be filming very near the Amazon to tell the next great Jack Ryan adventure."
Tom Clancy's Jack Ryan, Season 1 launches Friday, Aug. 31, Amazon Prime Video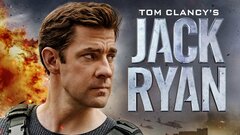 Powered by