'The Office' Reboot: John Krasinski Is in, but Who Else Should Return? (POLL)
On Monday, February 12 during an appearance on The Ellen Show, John Krasinski revealed that he would be more than glad to reprise the role of Jim in The Office reboot.
For some time now, there has been talk about a potential Office reboot, but from Krasinski's reaction to Ellen's question on the matter it's clear that he hasn't been contacted. When the host asked him if he'd heard about the reboot, Krasinksi's response was, "I did hear that… On the internet. Guess who didn't get a call? Me!"
The actor's tone remained light, as he teased about the possible return to Dunder Mifflin. Upon not receiving a call, Krasinski joked, "what does that say? NBC's like, 'you know who we didn't like? Jim.'" Ellen and the audience's protest to his words made it clear that Jim remains one of the most beloved characters from the NBC half-hour comedy.
Krasinski was promoting A Quiet Place, the new horror film collaboration with wife Emily Blunt, he also discussed his return to TV in Amazon's Jack Ryan series debuting later this year. See what else Krasinski had to say about the potential reboot in the video below.
The Office's popularity has only continued to grow with the support of streaming services like Netflix, where you can binge the show in its entirety. And NBC's enthusiasm for a reboot is promising for that growing fan base. Now, where's the dotted line for Krasinski to sign, because this is one reboot we can definitely get behind.
The hopeful response to The Office's potential return from one of its original stars makes us wonder, who else might be up for the reboot? From Dwight Schrute to Michael Scott and everyone in between, the possibilities are endless. Let us know in the poll below, who you'd want to see return to Scranton and work for Dunder-Mifflin again.
We hope you showed Toby some love, because he clearly never got any from his co-workers, and stay tuned for more details on the potential reboot; with luck there will be news soon!
The Office, streaming now, Netflix.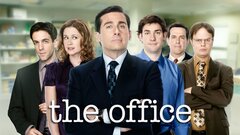 Powered by