What That 'Walking Dead' Finale Twist Could Mean for the Show's Future
[Spoiler Alert: This post contains spoilers from "Wrath," the Season 8 finale of The Walking Dead.]
The Walking Dead finale ended on many surprising notes, one of which is the blatant impending betrayal by Maggie (Lauren Cohan).
As the "All Out War" story arc met its conclusion with a showdown between Rick (Andrew Lincoln) and Negan (Jeffrey Dean Morgan), things took an unexpected turn for fans who haven't read the comics by Robert Kirkman—Rick lets Negan live, but only after slicing his throat with a shard of glass.
Fans of the original source material knew that if the show were to follow the books then this is where the story would lead, but it's the events that follow which remain shocking.
When Rick orders his people to save Negan, Maggie's heartbroken protest is understandable—Negan killed her husband, Glenn (Steven Yeun). His death may have occurred over a year ago on the show, but it's been only weeks since the tragic event in the storyline. Yet it's Maggie's choice words following the ordeal which have some viewers scratching their heads.
Once loyal, she declares that she's now out for blood, "Rick and Michonne (Danai Gurira)… Rick was wrong to do what he did, Michonne too" she says of the couple saving Negan. "So we're gonna bide our time, wait for our moment, and then we're gonna show him."
Okay, but who will side with Maggie? Supposedly Daryl (Norman Reedus), as he echos her sentiment.
"Yeah, we will," Daryl says about showing Rick and Michonne how their decision will impact the future.
Daryl's involvement is almost more perplexing, as he released Dwight (Austin Amelio) with a pat on the back and pair of keys to a vehicle.
Sure, Dwight has somewhat redeemed himself, but how should he be forgiven over Rick? How could Daryl let someone that hasn't been honest in the past free, but turn on Rick who has been by his side for years? It's confusing to say the least.
And then there's Jesus (Tom Payne), who is also part of the plot. As someone who instructed Morgan (Lennie Jame) to avoid violence earlier in the episode, his involvement is equally perplexing. The pacifist taking part in a revenge plot isn't just surprising it's uncharacteristic.
While Daryl and Maggie plot their revenge, Rick and Michonne were making it clear to Negan that he'll be a prisoner, an example of the societal structure they plan to create. After spending the second half of the season in a destructive state, Rick has finally found himself again.
"When Negan says the kid didn't know a damn a thing, he realizes where he's about to go and what he's about to become," Andrew Lincoln says of Rick's path on AMC's Talking Dead.
"In that fleeting moment, that's when he decides, 'If I continue with this, if don't try to save this man's life, it's over.' It ultimately is a story about restraint rather than revenge and love rather than hate, which has always been integral to our show."
And while Rick takes comfort in his decision, Maggie and Daryl's newly conceived plot should have him on edge.
What will this mean moving forward? It could likely mean that Rick and Michonne are in danger, but in danger of what? Would Daryl and Maggie actually seek the deaths of Rick and Michonne? We'll just have to wait and see.
Fans who haven't had their fill of the dystopian world can relax since Fear the Walking Dead has just begun, giving them something to hold onto until then.
Fear the Walking Dead, Sundays, 10/9c, AMC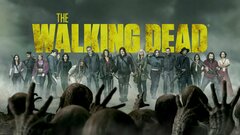 Powered by