Lennie James' 3 Words to Describe 'Fear the Walking Dead' (VIDEO)
As the world of The Walking Dead weighs down more and more on Morgan Jones (Lennie James), the fact that he'll soon be a part of spinoff Fear the Walking Dead only leads to more questions.
How will Jones go from one world to the other? How will mental health be since he's been dealing with some delusions as of late?
See Also
Dying for a preview of the 'FTWD' crossover? We've got you!
Talking to James, as TV Insider did recently in our Los Angeles offices, the actor couldn't say too much about how Morgan leaves one show for the other. He also couldn't weigh in on if we'll see an earlier version of Morgan, as the timeline between Fear and TWD has never been fully revealed.
However, he did talk about how he's not the only new face coming to Fear—Maggie Grace, Garret Dillahunt and Jenna Elfman are also joining the cast.
He also shared how he's adjusting to Austin—where Fear films, as opposed to Atlanta, where TWD shoots—and the three words that best describe the new season.
For more from James, check out our interview below:
The Walking Dead, Sundays, 9/8c, AMC
Fear the Walking Dead, Season Premiere, Sunday, April 15, 10/9c, AMC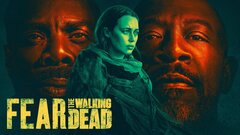 Powered by