See Johnny Galecki's Return as David in 'Roseanne' Sneak Peek (VIDEO)
Since the Roseanne revival was announced, many fans have speculated about the old characters may pop up in the return season. And for some time, they've known that Johnny Galecki would reprise his role.
Now, the Big Bang Theory star's guest spot on the ABC hit is just days away, as David returns in the upcoming episode "Darlene v. David." This is Galecki's only episode this season, and there's no word on whether he'll reprise his role for the previously-announced next season.
David Healy was part of over 90 episodes in the original Roseanne run. As for the reason for his revival drop-in? As explained in the logline, "David unexpectedly shows up for Harris' (Emma Kenney) birthday after being absent for years, forcing Darlene to re-examine their relationship and the rest of the family. "
In the promo teasing Galecki's return, fans take a stroll down memory lane as various clips of Darlene (Sara Gilbert) and David's best moments are shown. Then comes time for the reintroduction, as David shows up at Darlene's window.
Of course, he doesn't receive the warmest of welcomes. David's nervousness is apparent when he interacts with Darlene's father Dan (John Goodman).
Watch the exciting reunion in the short clip below, and don't miss Galecki's return on April 17.
Roseanne, Tuesdays, 8/7c, ABC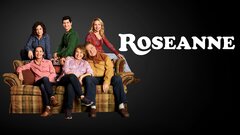 Powered by