'The Flash' Returns With a Twist for Carlos Valdes' Cisco—Danny Trejo's Breacher!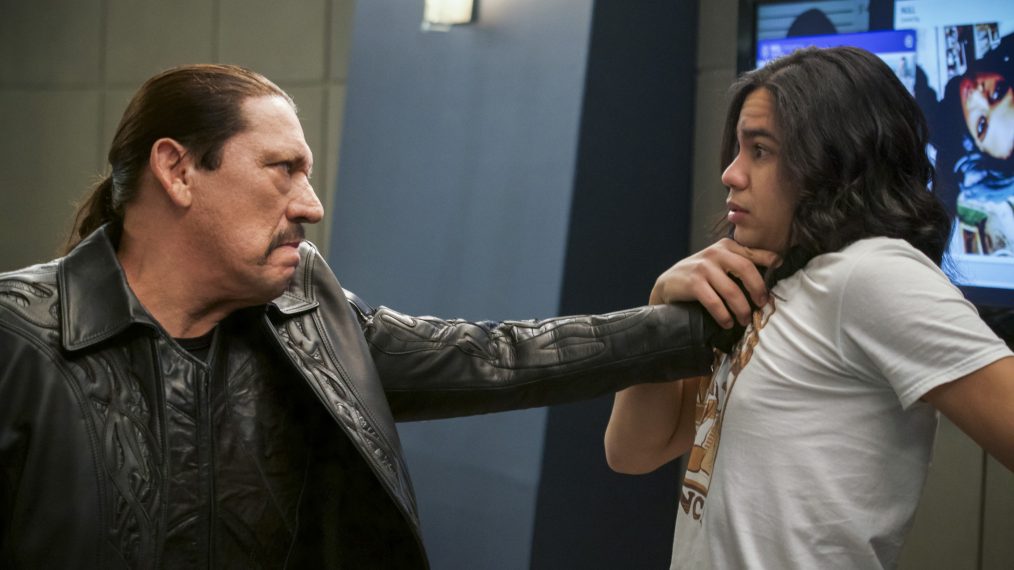 The Flash is back tonight after a mini-break and the team's hunt for brainy baddie DeVoe hasn't gotten any easier during their absence. Nor have the gang's non-meta issues, it seems.
Barry (Grant Gustin) and Denby (Hartley Sawyer) continue to clash over differing plans of attacks. Meanwhile, Cisco (Carlos Valdes) is slapped with an angsty new twist in his already difficult long-distance romance with Gypsy (Jessica Camacho) when her dad, Breacher (Danny Trejo), visits from their Earth 19 with a secret request.
Below, Valdes gives the scoop to TV Insider about the exciting episode.
Let's talk about this episode. You get to work with Danny Trejo again and it's also directed by Kevin Smith! Two great tastes that taste great together!
Carlos Valdes: Yeah, it's great too because Kevin and Danny work really well together, you know? They're both, like, super low-maintenance, low-stress, creative personalities. Danny's just like, 'You tell me where to stand and what to say.' And Kevin's like, 'Uh yeah, you just have to stand right here and say these lines at this time.' Just super simple but when the camera's rolling, it's magic.
See Also
Pretty much everything is coming back. So where does that leave pilots?
It's always so nuts to hear that the man who plays Machete is chill.
[Laughs] Underneath that tough, crusty exterior, he's a wonderful, wonderful man who is nothing but magnanimous. He has an incredible life story with a lot of hardship and loss and tribulations. I'm still surprised by this thing that he said to me once: 'Every good thing that's happened to me has been the direct result of helping somebody else.' And, that's f**kin' awesome.
It really is. And it seems like his Breacher, who is the leader of The Collectors and your girlfriend's father, is coming back to ask Cisco to help him.
That's right. Yeah. And what makes that difficult is Breacher is losing his powers. Cisco and Caitlin (Danielle Panabaker) are tasked with figuring out the cause of his problem, and they essentially concluded that he's getting old. So Cisco has to be the one to [tell him] that he's getting too old. That's about the most awkward conversation you can have! [Laughs]
Oh god. Is Jessica Camacho's Gypsy at least around to help soften the blow?
She is in an episode further down the line. She starts showing up toward the end of the season because Cisco and Gypsy's long-distance relationship—and I do mean long distance, since she lives on another Earth—is being tested in some pretty significant ways. Ways that are really analogous to the problems that plague many long-distance relationships here in the real world. Yeah, that's an interesting thing.
So Cisco is integral in finding out why Breacher is fading, but he also presents you with an opportunity, correct?
That's right, that's right. Breacher offers me a job and that's sort of where the domestic issues with Gypsy sort of come into play. Cisco wants to spend more time with Gypsy, and this job would essentially allow him to do that. Most of this job would entail being around her and on the same team. However, it would theoretically involve a separation from Team Flash and Cisco has to weigh the potential of that.
Ugh. That can get messy. I mean, I can see his decision becoming a season finale cliffhanger.
I don't know if it's a season finale cliffhanger, but as the action starts to funnel to a head… Cisco definitely figures out by the end of the season where he stands, where his allegiances lie, and where he stands with his relationship with Gypsy. The thing is, even though he's Vibe, I think what's appealing about this offer is that he'd get to be an inter-dimensional border cop, so he still gets to weaponize his powers and stop bad guys, you know what I mean? Except that the bad guys are not psychopathic criminals as much as they are drug smugglers!
See Also
The sarcastic Stretch Armstrong may want to call it a day—before someone else retires him.
What can you tell me, what can you preview going forward into this season? What's coming up beyond the relationship stuff for Cisco?
Harry (Tom Cavanagh) is starting to have a difficult time with the Thinking Cap he created and it's actually going to affect the friendship dynamic between he and Cisco. We're also going to be seeing some pocket-dimension stuff, which is cool. Also, we're going to come up with a new tool that could possibly allow us to take down DeVoe in a critical way.
The Flash, 8/7c, The CW
Powered by