Akbar Gbajabiamila on Preparing to Run the 'American Ninja Warrior' Course for First Time
Stars from entertainment and sports are putting mind and body to the test by participating in the Celebrity Ninja Warrior for Red Nose Day NBC special on Thursday, May 24, tying in with a night of other NBC programming dedicated to the charitable event. Derek Hough, Ne-Yo, Nikki Bella, Colton Dunn, Scott Evans, Gregg Sulkin and Nastia Liukin are running the obstacle course under coaching eye of elite ninjas for charity.
Rounding out the field is Akbar Gbajabiamila, a regular American Ninja Warrior host who will be emerging from the sidelines to face the course for the first time ever. Inspired by the stories and ninjas he would be commentating about with broadcast partner Matt Iseman, the former NFL player often thought about how he would do on the infamous course.
"Then I start to reason and go through this denial stuff, which I didn't know at the time," Gbajabiamila said. "I thought it was reasoning, but it was actually denial. I think what I was in denial about was feeling insecure. I didn't want to embarrass myself. I didn't want to take away the legitimacy of my commentary."
These feelings didn't stop him from signing up, inspired by visiting a neighborhood school to pass out food to kids as part of a Red Nose Day initiative last year. The Los Angeles native had no idea the school was located near where he grew up in Crenshaw.
"The fact that I knew the money was going to something that was connected to in my neighborhood, I could feel it and see it," Gbajabiamila said.
"…It hit close to home, literally. From there, it became the question of how I can do a little bit more. The fact that my neighborhood is one of the recipients of Red Nose Day, that I can show the kids and others from all over benefiting from Red Nose Day that, 'I'm going to not only host it but I'm going to run the course. I'm going to put myself out there.'
"There is still the fear of failure. Wondering what would happen if I fall. Even if it was for charity, would I be able to give my commentary afterward? It didn't matter anymore because, regardless, I was raising money for charity. For every obstacle that was completed, $5,000 was donated to charity. So, if my big butt could get across one obstacle, guess what? I did more than I did the previous year. And that was cool."
Despite seeing thousands of runs and hundreds of ninjas attempt the course, Gbajabiamila felt being a former pro athlete didn't put him at any advantage. In fact, he saw being 6-foot-5 and 260 pounds a disadvantage within the environment.
He fully committed to preparing for almost three months, dropping 13 pounds during training. He woke up at 4 a.m. and drove from his home in Redondo Beach to Thousand Oaks, where he met up with elite ninja Kevin Bull at his gym. Gbajabiamila began with weights for an hour before training with Bull for another two hours. It took time before he built up any kind of endurance.
"I would get assignments to do fingertip pushups and do things during TV commercial break at home. I would do things with my son and daughter. I was able to build enough to attack the obstacles. Even then, I felt clumsy, like I was going to hurt myself. I didn't realize how much of a preservation mindset I had. It was like I didn't want to get hurt. Everything felt dangerous. That was weird.
"It took me back to my football days and being open to correction. The way Kevin did it was so loving and spot on. I thought he did a good job.
"One thing he was with me is patient. I think that is what makes him one of the more successful ninjas. Even when he is in trouble and things aren't working out on an obstacle, he has the ability to figure things out under duress. I would freak out under duress, and he would go, 'Whenever you're feeling the pressure and you are about to pump out you have to stay calm. I try to apply that to my run. It was cool."
Everything from the world of dance and the Olympics to movies and television will be represented during the star-studded special. One who interests Gbajabiamila is WWE superstar and Dancing with the Stars alum Nikki Bella.
"Before Ninja Warrior came on to the scene, WWE was it when it came to sports entertainment," he said. "There is nothing to really rival it. I guess Ninja Warrior would fall under that classification for sports entertainment in a sense. I think Nikki Bella is interesting because she has the background. She has the athleticism. She has done some high risk moves flipping in the air from the top rope and turnbuckle. She has all the intangibles to be a ninja warrior.
"Her run, I think, will be surprising to a lot of people, that she can cross over. No different than from last year when I was so impressed with Derek Hough. This is a top-notch dancer. I think a lot of people are looking forward to, as big as a star as he is, Ne-Yo.
"Can a singer and entertainer make that cross over into Ninja Warrior? It's cool to see Ne-Yo out of his element. I was kind of surprised that he agreed to do it. I think the cause Red Nose Day will bring people out of their comfort zone because they know that they are doing it to raise money. It grabs people's attention. Last year we were able to bring a load of money in of fundraising for Red Nose Day."
Gbajabiamila is proud to be part of the charitable effort. Now that he is trying the course on for size, will cohosts Kristine Leahy or Iseman follow?
"I don't know if they would do it. It wasn't easy," he admitted. "You really have to commit to it. I had to commit to it. I thank my wife for being patient with me. I wasn't really present those months leading up to it because I was beat up and fatigued. I guess I know what it was like to be close to fatigued as being pregnant. I don't know. I have nothing to compare it to. I never felt something so tiring because my body has never done anything like that.
"I'm used to the hitting, pounding and tackling. I can deal with that. But it was so bad that I partially tore my bicep before competing…it was a loud pop and freaked me out. I was concerned if I would ever compete. That was a setback for me too."
For Gbajabiamila, running the course is an experience he will never forget. After finding out what the ninjas endure to make it to the show and then compete, expect to hear a different type of commentary on American Ninja Warrior going forward.
"I'm going to put a respect after every punctuation," he said. "Sometimes it's me going, 'Come on! You got to dig deep! You got to show up!'
"It's because I'm supposed to be the authority here since I played professional sports. Now the tone has changed, and it has to be like, 'Dude I know what that is like, and it sucks. Whatever you can find inside your utility belt you got to pull it out. I can even look at them and think I had that same look on my face. I feel a little more in tune with ninjas."
Watch Celebrity Ninja Warrior for Red Nose Day at 8/7c Thursday, May 24, on NBC.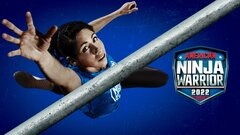 Powered by