'The Talk' Host Eve Reflects on Her 100th Episode
She's not the hostess with the mostest… hours at the table, that is!
But this week will mark Eve's 100th episode since joining The Talk's lively panel in November. During that time, the hip-hop star and actress has embraced the daytime chatfest's ultrapersonal tone, getting real about her stripper past, a home-invasion scare and her 2007 DUI.
"It's challenging, but at the same time, it's been therapeutic. These are things I probably needed to get out at some point," says Eve, who sits alongside Julie Chen, Sara Gilbert, Sheryl Underwood and Sharon Osbourne. "Hopefully there are people watching that I'm helping in some way."
Those tell-all sessions are easy compared to grilling guests. "I've met so many icons already: Elton John, Lionel Richie, Burt Reynolds. I almost couldn't talk to Hugh Jackman," she says with a laugh. "How am I supposed to ask this man a question?"
See Also
There is a new face sitting at the round table with Julie Chen, Sara Gilbert, Sharon Osbourne, and Sheryl Underwood.
If Eve has her way, she'll work scripted TV back onto her jam-packed plate. Like Gilbert, an executive producer and star of the Roseanne revival, revisiting her eponymous 2003–2006 sitcom is on Eve's mind. "I talked with some of the cast recently," she admits. "I would love, love, love to do it."
The Talk, Weekdays, 2/1c, CBS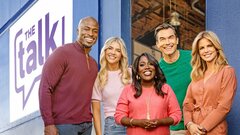 Powered by