Jenna Fischer's 'Splitting Up Together' Blog: Working With Director Helen Hunt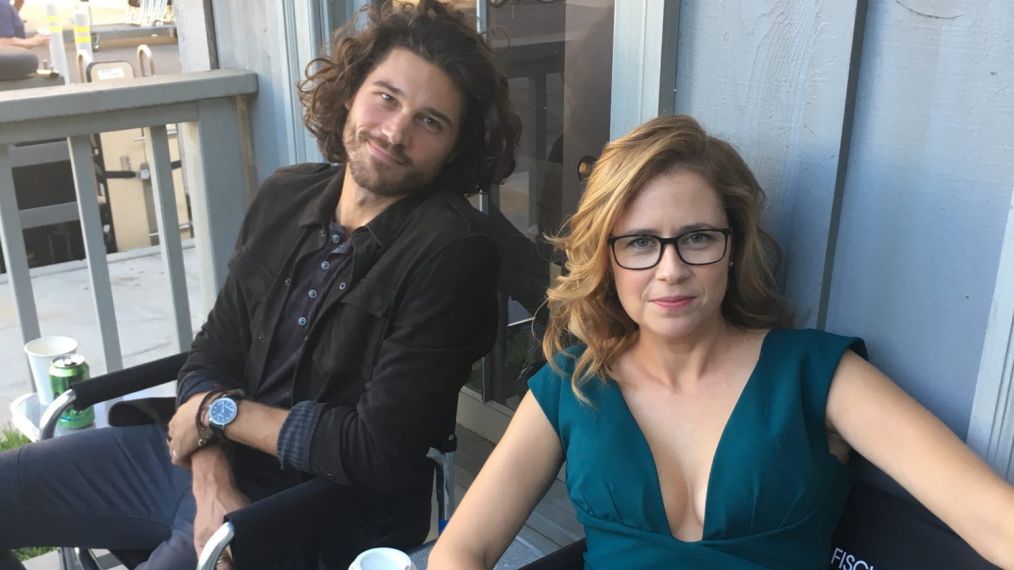 [This is the weekly post-mortem column for ABC's new comedy, Splitting Up Together, courtesy of star Jenna Fischer (who plays Lena). Watch a new episode every Tuesday and then come to TV Insider to read Jenna's behind-the-scenes insight in her own words! Spoiler Alert: Read ahead only after watching this week's episode.]
When Lena heads off to the garage this week she's feeling great. She and Martin (Oliver Hudson) have settled into a good routine, the kids are happy, and she has a second date with Wes (Trent Garrett).
All of Lena's newfound confidence is represented in the plunging teal dress she chooses for her date. I tried on a TON of dresses for this episode and we settled on the teal one. That dress is a great example of what an expressive and important part of storytelling the wardrobe can be.
While stunning, it was not that much fun to wear. I mean, yes, it's fun to strut around in for a couple of hours. But, I'm a sweatpants gal, not a fashionista. I had to wear that dress every day (about 11 hours a day) for an entire week. By the fifth day I was ready to burn it. When I saw it in the episode I realized it was all worth it!
See Also
The star of the ABC sitcom hit spills more BTS scoop about filming the episode.
One of the most exciting things about this episode was getting to work with our director, Helen Hunt. Yes, THE Helen Hunt. The winner of Golden Globes, Emmys and an Academy Award. THAT Helen Hunt.
She was incredible and a quick favorite of the entire cast. A fun fact about Helen: She loves actors to use props! For example, she suggested I unroll my napkin, arrange my silverware and look at my menu all while delivering a long speech during the date scene with Wes. She never wants you to just sit and talk. Because people rarely ever do that! She was constantly putting props in my hand.
This is definitely one of our most emotional episodes. Lena struggling with the fact that her son is home sick without her, Martin pouring his heart out to Maya (Diane Farr), Lena and Martin's fight in the kitchen, Maya's decision to commit to artificial insemination!
Wow! That's a lot for a comedy show. But, folks, we go there. And, I love it. My favorite thing about our show is that it's not afraid to take a break from jokes and dig deeper at times.
Next week we see Lena and Martin getting along! Gasp! I enjoyed shooting these scenes so much. It's fun to have fun with Oliver. We also see Martin start dating. He's so funny and charming on his date that it it guaranteed to make you swoon. At home, Lena finds out Mae (Olivia Keville) chose Maya for her school essay on female role models and she works to show Mae she is a female role model too!
Splitting Up Together, Tuesdays, 9:30/8:30c, ABC