'Grey's Anatomy' Star Eva Binder on What the Future Holds for Sofia and Arizona
Over 14 seasons, Grey's Anatomy has delivered countless unforgettable moments—thanks largely to a superb cast, including youngest member Eva Binder.
At only 9 years old, Binder has the important role of Sofia Robbins Sloan Torres, the daughter of fan-favorite former couple Arizona Robbins (Jessica Capshaw) and Callie Torres (Sara Ramirez). But with Ramirez's Season 12 exit, and Capshaw's recently-announced departure at the end of this season, fans are left wondering how Sofia's storyline will wrap up—if it will at all.
See Also
People are realizing the show doesn't need a man—and neither does its lead.
TV Insider chatted with the pint-sized actress about her favorite moments on Grey's, what's to come for Sofia now that Arizona is leaving, and her life outside of acting.
Were you excited when you got the role of Sofia? You're pretty young—had you watched the show before?
Eva Binder: I was crazy excited when I found out that I got the role on Grey's Anatomy. My mommy came to my school and she said, 'You got the part,' and I didn't know what she was talking about… she then said, 'Grey's Anatomy,' and I totally freaked out and started screaming and jumping up and down! I didn't actually know I was Sofia until my wardrobe fitting. Then I got even more excited!
I had never seen the show before I booked it, but I was just excited because it was my first television job ever. I was really lucky.
It must be great to work with experienced actors like Sara Ramirez and Jessica Capshaw. Do you have any favorite moments or inside jokes with them on set?
One of my favorite moments on set was when someone kept forgetting their lines and making jokes about it, it was really funny! What is also really fun is that Jessica will sometimes tickle me and hug me. She is the most nicest, funniest person on set.
In Season 12, Callie and Arizona went to court for custody of your character, and after Arizona won, Sara exited the series. What was your reaction over their breakup and Sara leaving the show?
When I found out that [Sara] left the show, I was so shocked. But I was hopeful she would be happy in whatever else she wanted to do because she was really sweet to me, just like Jessica.
See Also
'Grey's Anatomy' viewers aren't holding back, to say the least.
In a recent episode, we saw Sofia having a hard time adjusting to life in Seattle and missing Callie. Do you think she's finally settled in or will she go back to New York?
Speaking as my character Sofia, I think I can handle anything—Seattle or New York. As long as I am with my mommies!
Now that it has been announced that Jessica is leaving the show, do you have any predictions for where Arizona and Sofia will end up?
I was at home in bed when my mommy told me that Jessica was leaving the show. I was shocked again! I predict that they will end up in New York because Sofia won't stop talking about it.
What are some things you've learned about acting getting your first big break on a major show like Grey's?
One big thing I learned while on Grey's was how to cry on cue while people are doing your hair and makeup. That is very hard.
Your bio says you want to be a veterinarian. Can you tell me a little about your love for animals?
I love all kinds of animals! Big or small, ugly or cute. I want to open up the biggest animal rescue ever. While I am still acting, of course. I want to be a vet so I can treat the animals that I rescue. Me and my mommy have already rescued about six animals off the street. We kept one—Fawn, a stray—and got all the others back to their homes. When we find their owners I always get a little sad because I get attached but then happy because they are home.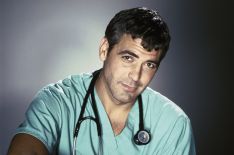 See Also
These TV MDs are off the charts!
With your time on Grey's potentially near its end, what sort of roles are you looking for next?
I would love to do a sci-fi movie like Jurassic Park or Avatar. They are my favorite movies. Oh, and Hunger Games! I also love to sing, play the piano, and dance so a dream job would be like Rise.
I just started working on the music from Matilda the Musical, so hopefully someday before I am too big, I can play Matilda on a big stage. But let's remember, you never know what can happen on Grey's…
Grey's Anatomy, Thursdays, 8/7c, ABC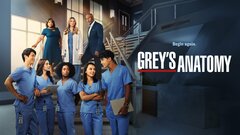 Powered by