Spoiler Alert: Meredith's 'Grey's Anatomy' Happy Ending Might Not Involve a Man
In the Grey's Anatomy Season 11 poster, Derek Shepherd was out of focus in the background, with Meredith Grey crystal-clear in the foreground. In the Season 12 poster, Derek was gone entirely and only Meredith remained. Patrick Dempsey had left the show, and nevertheless, the show persisted.
Despite prognostications that the end of the MerDer love story would be the end of this long-running Shondaland drama, Grey's Anatomy actually rose in the ranking of overall ratings and 18-to-49 ratings.
See Also
The actress on Meredith, McDreamy, and trying her hand at directing.
And Ellen Pompeo, now the solo star of the show, just negotiated a new deal that will take her through a potential 16th season of the show at more than $20 million a year. By now, hopefully, people are realizing Grey's doesn't need a man to be successful, and neither does its lead.
For the record, the implication that Grey's ever did was a point of frustration for Pompeo. "All of a sudden, ­Patrick leaves, and it's like, Oh my God, ­Meredith's gonna get killed with Alzheimer's! The show couldn't possibly go on ­without the man!" she told Entertainment Weekly in 2015. "Let's keep it really real for a second and say this is really difficult for my ego. It's like, Annalise Keating carries [How to Get Away With Murder], Olivia Pope carries [Scandal]. But somehow, Meredith Grey needs someone."
Even the studio and network execs couldn't imagine a Grey's without a Meredith romance, apparently. "The truth is, the ink wasn't even dry on [Dempsey's] exit papers before they rushed in a new guy," Pompeo told The Hollywood Reporter earlier this year. "I was on vacation in Sicily, decompressing … and they're calling me, going, 'What do you think of this guy?' 'What do you think of this guy?' And they're sending pictures. I was like, 'Are you people f**king nuts? Why do you feel that you have to replace this person?' I couldn't believe how fast the studio and the network felt like they had to get a penis in there."
But all those people—the fans and the execs—had missed the point. It was the point Cristina Yang (Sandra Oh) elucidated when she made her Grey's exit in Season 10: Derek Shepherd is very dreamy, but he's not the sun. Meredith is.
In fact, even before Dempsey's exit, Grey's creator Shonda Rhimes asserted the show is "not about a boy" in a featurette on the Season 10 DVD set. "It's never been about a boy," she said. "The show has always been a love story between Meredith and Cristina."
With Derek dead and Cristina overseas, however, Meredith hasn't been focused on any sort of love, romantic or platonic. Instead, she has focused on her love for her family—half-sister Maggie Pierce (Kelly McCreary), sister-in-law Amelia Shepherd (Caterina Scorsone), her three kids—and her love for her work. She even won a Harper Avery Award, after all! (As Pompeo quipped on The Ellen DeGeneres Show, "It's amazing how much you get done without a penis.")
It might not be the character evolution that fans or even Shonda Rhimes expected, but it's a valid one nevertheless. "It was so interesting for me to discover that audiences, especially women, are so conditioned to believe that there's a singular fairy tale that nobody stops to think that that might not be the definition of happiness," Rhimes told EW in 2015. "Meredith knew that already. We got to the point in [Season 11] when Meredith said, 'I can live without you, but I don't want to,' which for any woman is a very powerful statement. It means: You complement me, but you don't complete me."
See Also
With Jessica Capshaw's recently-announced departure, what's next for her on-screen daughter?
Season 11 recruit Nathan Riggs (Martin Henderson) was the heir apparent for Meredith's love life, but he too exited the plotline, deciding to stay with former flame Megan Hunt (Abigail Spencer) earlier this season. (Apparently, the network and studio brass weren't enthralled by Pompeo's chemistry with Henderson. "We brought in Martin Henderson, but they didn't love the storyline, so that ended," Pompeo told THR.)
And when Nathan left, Rhimes gave another indication the show might not end with Meredith swooning over some strapping surgeon. "Meredith is a very complex character who had the love of her life die," the TV producer said this November. "I don't know that, for her, an epic romance is exactly what she's looking for … I kind of subscribe to the idea that a woman should be looking for something else. Mainly something for herself as opposed to basing everything on a man."
Showrunner Krista Vernoff echoed those sentiments in a December interview with EW. "What is next for Meredith in terms of a love life remains to be seen," she said. "I believe that romance and love are always a possibility, especially after we've lost the loves of our life."
See Also
In the fight against wage inequality, these women are standing up for themselves.
Here in Season 14, the show just introduced a new love interest for Meredith—Scott Speedman's Dr. Nick Mars—perhaps because those same execs are still hellbent on pairing Meredith off. Who knows, however, if Mer and Nick's flirtations will become anything more.
In the meantime, Mer has some mini-livers to create and a surgical innovation contest to win. As Krista said in December, "Love is possible for Meredith 100 percent, but it's not her focal point."
Grey's Anatomy, Thursdays, 8/7c, ABC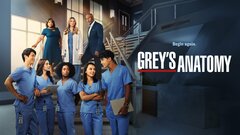 Powered by