Nicole 'Snooki' Polizzi on the 'Jersey Shore' Revival & Its Season 2 Renewal
Nearly 10 years after viewers were introduced to the terms "GTL," "Meatball," and "T-Shirt Time," the Jersey Shore gang (with the exception of a couple of OGs who aren't back full-time) is making a triumphant return to MTV on April 5 in the aptly-titled Jersey Shore Family Vacation.
TV Insider spoke with Nicole "Snooki" Polizzi about what fans can expect in the revival, which sees the original crew move to Miami this time around. She also shared how she dealt with being away from her family—Polizzi is now married to husband Jionni LaValle with two kids—and what it's really like to live with her crazy roommates.
See Also
The MTV stars are still down to party in the revival.
See what she had to say, and get [fist]-pumped for Jersey Shore Family Vacation.
It's been over 5 years since the Jersey Shore finale, and nearly 10 since it began. How did the revival come to be?
Nicole "Snooki" Polizzi: Overall, we all wanted to get back together and [thought] why not revive the show? So it took a little time to try and do that. MTV finally was like, 'Alright, let's do it. Screw it, let's all get together and bring back the show.' We were all just waiting for the right time.
What was it like to be back be living together? Was there anything you'd forgotten about your fellow housemates?
Um, that they're messy! [Laughs] I grew up so much with my kids and everything, I try and keep my house so spotless. Last time I lived with them, I didn't have kids, so I didn't really notice it, and now I noticed it and was like, 'Oh, my god.'
A lot has changed since the last season. How did that influence your behavior this time around?
I definitely didn't want to be too sloppy. But at the same time, I never really get my "mom" time away, where I'm on vacation, so I enjoyed it as much as I could. Just because I'm a mom doesn't mean I don't drink and have a good time. So I drank all the wine that I could and I had a good time. I just think the only difference is that I'm not looking for a guy anymore 'cause obviously I'm married. So it was changes like that.
Who decided on Miami? Do you like it better there than Jersey?
It was based on the season because we filmed in February so it's still cold and snowy [in Jersey]. If we could, you know, we would love to have it in Jersey because that's our spot. But Miami is our second favorite so it kind of just made sense.
Who would you say has changed the most since the first season and who has changed the least?
I'd probably say Mike ["The Situation" Sorrentino] just because he's been two years sober. He's just overall a better person that we can all get along with now. And the person that's the same I would say is Pauly ['Pauly D' Delvecchio], he hasn't changed one bit.
Who will we see butt heads? Any old issues from the past get drudged up?
Not for me, just because it's been six years, like, move on. But there is obviously a lot of drama in the house that you're going to see. I try not to be a part of it [Laughs].
It's called a Jersey Shore Family Vacation—does that mean you don't have any sort of job this time around?
Everyone knows now that we have brands and businesses, so I feel like if we were to do a job, it just wouldn't feel real, and we love to keep our show as real as possible. So I think the job thing is totally out, but I feel like we call it the Vacation because we weren't at the Shore, and it basically was a vacation for all of us. It was a vacation for me away from the kids and my husband for a little bit just to relax and wile out.
Reality TV has changed a lot since you were all first on the air. Why do you think the show holds up? Were there any changes in the format to keep up with the times?
I'd say we like to keep it old school and just stayed the same with our format when it comes to living in the house—being filmed 24/7, no cell phones, no computers, no electronics. We couldn't read or write. We kept our format of having to interact with each other and I think it worked.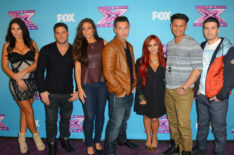 See Also
GTL, all day long.
Do you like being able to unplug from electronics? Is it nice to unwind?
It is the first couple of days, but in that format, I could never do it again. Just because I missed the kids so much, that was the hardest part. It was a struggle definitely for me being a parent that I probably won't do again, but it was worth it.
Will any of your significant others or kids factor into the show? How did they feel about you returning to filming?
They're just going to be a part of our home packages before we leave, but they're not cast members on the show. And I don't want my kids to be on it like that anyway. My husband hates being on TV, so he tries to shy away from it too. They get that it's my job and this is my show, so I don't want to force them to be involved, which is nice. And Jionni was totally excited for me come back, he was like, 'Have a good time, I'm fine with the kids.' Thank god he's a great dad but I was nervous leaving him with the kids for three weeks.
You've been renewed for another season— do you think you'll return to Miami or Jersey? What do you hope that will include? Any changes?
Honestly, I can't really say because I haven't heard anything yet. So I don't even know when we're filming the second season, but I'm hoping I'm not far away from my kids, that's all I care about.
How did it feel when you were renewed for a second season?
It was exciting that we were coming back. I feel like—a reality show especially—if you take more than a three-year break, it's done. So the fact that we got a second chance, we were very grateful. Having a Season 2 is just insane.
Jersey Shore Family Vacation, Premieres Thursday, 8/7c, MTV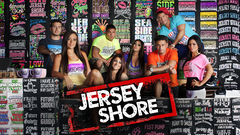 Powered by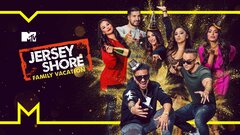 Powered by