First Look: 'Grimm' Returns With Juliette a Changed Woman (PHOTO)
Grimm's fifth season had barely gotten started last fall when the holidays forced a winter hiatus. As if the seven-week break wasn't agonizing enough for fans, the last episode dropped a major bombshell that led to so many questions: Juliette is alive!
Despite an excellent job by the cast and producers of convincing us that the character's death (by Trubel's crossbow) last May was real, actress Bitsie Tulloch made her shocking reappearance in the closing moments of the December 11 episode. But apparently she's no longer Juliette, Nick's girlfriend-turned-volatile-Hexenbiest. As we'll find out when the show returns next Friday, she now goes by the name Eve. And she's clearly spent some time transforming herself into a badass agent of Hadrian's Wall, the secret government agency that's taking on the Wesen uprising.
In this exclusive first look at next week's return episode, Eve and Meisner (Damien Puckler) are at the HW command center.
Grimm returns Friday, Jan. 29, 9/8c, NBC.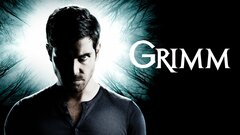 Grimm
where to stream
Powered by