Check Out TV's Best Opening Credits
A figure floating in an abyss. Faces that dissolve. The eerie black-and-white title sequence of AMC's The Terror, about a Victorian-era Arctic expedition stalked by supernatural forces, will make you excited about being scared.
"We try to express the essence of the story and the heart and soul of the characters," explains creative director Patrick Clair, the mastermind behind it.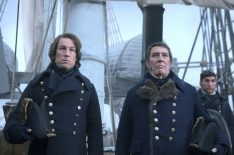 See Also
The director's new horror drama is based on true events.
It got us to thinking about some of our other favorite openers. Weigh in with yours at [email protected]
The Brady Bunch
"Here's the story…" Like The Beverly Hillbillies and Gilligan's Island, the 1969–74 sitcom had a catchy theme song that spelled out the premise.
The Mary Tyler Moore Show
That carefree hat toss and the joyous "Love Is All Around" captured the spirit of the 1970–77 sitcom about a new era of independent women.
Freaks and Geeks
How the various characters pose for their high school pictures on the 1999–2000 comedy tells us everything we need to know about their personalities.
The Simpsons
Since 1989, the irreverent cartoon has featured two changing elements: Bart's cheeky chalkboard message and the family's frantic assembly on the sofa.
The Terror, Monday, April 2, 9/8c, AMC