Roush Review: All Aboard AMC's Chilling 'The Terror'
Spring thaw? No such luck for the ill-fated Royal Navy explorers who are at the mercy of an unforgiving Mother Nature and also under attack in an Arctic wasteland by a supernatural beast they may have conjured by venturing where they weren't welcome.
AMC's aptly titled The Terror—which is the actual name of one of the two icebound ships—understands that few things are more truly frightening than the unknown and (for a while) unseen. Based on Dan Simmons's 2007 epic historical novel, this grueling but rewarding 10-part series from Ridley Scott's company is like a Masterpiece version of a classic horror movie: literate and philosophical, yet shocking and terrifically scary.
Also extremely well acted. Jared Harris (The Crown) leads a first-rate cast as second-tier Capt. Francis Crozier, whose warning that "This place wants us dead" goes unheeded by the prideful leader, Capt. John Franklin (Game of Thrones' Ciarán Hinds). "God lies in all realms," proclaims Franklin, who sees Crozier as a drunken alarmist and prefers to gush about glory and destiny.
Too bad he didn't factor in the native spirits and monsters.
Once the Terror and sister ship Erebus are grounded in an ice pack for successive winters in the late 1840s, hope gives way to despair aboard these spookily creaking vessels, stranded in a vast alien landscape of ice, snow and fog. (Occasional overhead shots break up the claustrophobia and remind the viewer of man's insignificance in this hostile environment.) As the sailors marvel and quake at the unexpected cunning of the creature that seems to be taunting them—when it isn't dismembering them, that is—they begin to turn on one another. Succumbing to cold, disease, hunger and, most perniciously, fear, they reveal their true animal nature as their bodies and minds begin to break down.
And yet there is nobility among this crew, including insecure Capt. James Fitzjames (Outlander's Tobias Menzies) and especially the compassionate Dr. Harry Goodsir (Paul Ready), who takes a keen interest in the mysterious Inuit native woman they bring aboard. Dubbed Lady Silence (Nive Nielsen), she seems to have a mystical bond with and inner knowledge of the elusive monster referred to as Tuunbaq. She has a message as well for her hosts, which can be translated into the newly popular phrase: Get out!
On the other extreme is conniving shipmate Cornelius Hickey (Adam Nagaitis), who stirs a murderous pot of sabotage and treason, leading to more dire circumstances when the survivors attempt an overland mission in the bleak but fascinating final chapters. By the end, the real terror of this story is what lies in the hearts of supposedly civilized men.
The Terror, Series Premiere, Monday, March 26, 9/8c, AMC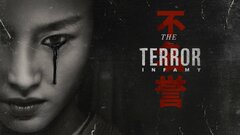 Powered by