Katie Couric's New Series Goes In-Depth on Hot Topic Issues
Katie Couric was co-host of Today for 15 years (1991–2006), was the first female solo anchor of CBS Evening News and has crisscrossed the globe interviewing world leaders, celebrities and business titans.
On the afternoon of our chat about her new National Geographic show America Inside Out, a six-part series examining our country's most divisive topics, she's been up since 3:30am."I just want a spicy margarita, a blanket and to finish watching The Crown!" Couric jokes.
The award-winning reporter, so beloved she was once nicknamed "America's sweetheart," has earned a night off. She spent six months traveling the country asking regular folks, celebrities and academics about racism, sexism, classism and other tough subjects.
Why did you want to tackle such challenging topics right now?
The political climate has been a catalyst for things that have been dormant bubbling to the surface. We're witnessing massive societal changes as America goes from an industrial to a technological economy. That has broad implications for the way we work, consume information and relate to other people. It's even affecting our brains. We're so sucked in to our daily activities, no one has time to step back and consider, "What is this doing to us?" I love saying, "Stop. Take a deep breath, and let's think."
You headed to Charlottesville, Virginia, in August 2017 for the first episode, to report on the potential removal of Confederate statues and ended up witnessing a massive alt-right neo-Nazi rally.
I went to Charlottesville to talk about the Robert E. Lee statue. It was terrifying to see what unfolded: Groups full of seething hate descending on beautiful Charlottesville, torches coming across the lawn of the university where I'd lived when I was a student at the University of Virginia. It's about so much more than statues. It's where we are in acknowledging the past in terms of race in America. Other countries have come to terms with painful chapters of their past: Germany, Rwanda, South Africa. We've never acknowledged fully what happened.
Do you ever get emotional when you're doing in-depth reporting on intense issues?
Oh, yeah, of course. In the case of Charlottesville, my sister Emily lived there and was a state senator before she died of pancreatic cancer. I kept wishing she were there and wondering how she would have handled it. In another episode, I was talking to Art Cullen, the Pulitzer Prize–winning editor of the newspaper in Storm Lake, Iowa. He was so passionate, earnest and caring. He shed a tear. These are highly emotional issues, and when people are honest, open, genuine, trusting and share their stories with you, it's very moving.
You also deal with class divides. Did you find out you had something in common with working-class America?
I really enjoyed talking to three guys at a bar in Erie, Pennsylvania. They were nice, and they were struggling. People need to understand their anger hasn't come out of thin air. We have too much cultural condescension. We all need a little humility and to be less judgmental. Generalizations are dangerous, period. I've experienced people trying to put me in a box and dictate who I am. It's confining.
What happened in your case?
I got typecast. If you had an outgoing personality or you were fun, you were automatically shallow and not that bright. I was called "perky," and that bugged me. I felt it was so demeaning. Bob Costas is short and cute, and nobody calls him "perky!"
Do you think it's a step forward to have two women, Hoda Kotb and Savannah Guthrie, cohosting Today?
It's great to have two competent women who support each other. Women are always portrayed in some kind of catfight. They used to do that to me and Diane Sawyer. We competed for interviews, but we weren't scratching each other's eyes out! One of the reasons I took the job on CBS Evening News was I wanted people to see, "Hey, there's a woman doing that job." The more images change, the less of a novelty they are. It's accepted and opens doors for other people.
There's a great moment of understanding in the April 18 episode when you capture an encounter at a mosque between Muslims and a group of Christian protesters who want to convert them. They end up really talking.
My producer went by the mosque to shoot and just happened upon these individuals. That's the beauty of long-form journalism. You see stories unfold. You have time to let the surprising moments happen. You can talk about things on a deep level that you can't in any other genre.
What did you learn from doing this series?
There are a lot of people who don't understand each other and aren't even trying. In my small way, I hope I can open up some eyes.
America Inside Out With Katie Couric, Series premiere Wednesday April 11, 10/9c, National Geographic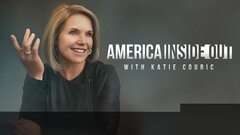 Powered by