Jane Goodall Discusses Nat Geo Documentary 'Jane' & Memorable Animal Encounters
In 1960, a 26-year-old animal lover without a college education ventured into the Tanzanian jungle and emerged with a groundbreaking study of chimpanzees. Her name: Jane Goodall. She has since become a world-famous primatologist and conservationist, and now, her early years in Africa are the subject of a stunning documentary.
See Also
'Possible Worlds' goes boldly into the final frontier's nooks and crannies.
Using never-before-seen footage that had been locked away in the National Geographic archive for over five decades (much of it filmed by Goodall's future husband Hugo van Lawick, whom she later divorced), director Brett Morgen creates an intimate portrait of the icon.
Goodall, now 83, reminisces with us.
How did it feel to watch the clips from so long ago?
Jane Goodall: I never thought that another documentary could be new for me, but this has taken me back to those days more than any other movie that's been done. There's an immediacy.
See Also
Following Tuesday night's series finale of 'The Long Road Home,' hear the real-life stories of the men and women who inspired the National Geographic event.
Which chimpanzee was the most memorable from that era?
Flo was one amazing lady. When I met her, she was over 40, and her teeth were worn to the gums. She was so distinct with this bulbous nose and thinning hair. She was an amazing mother. And sexy! She had 62 matings in one day!
What were some of the tougher moments to relive?
Poor Mr. McGregor [a chimp that Goodall bonded with]. He got polio. That was just so tragic. And Flo's son Flint dying of grief after his mother died.
See Also
Plus, the fourth season premiere of 'Grace and Frankie,' Jessica Chastain hosts 'Saturday Night Live' and a Game Show Network special, 'Meghan Markle—The Prince and the Game Show Model'
Was it hard for you to be a woman in a profession that was male-dominated?
I never thought about it until I came back with my results and was branded a "National Geographic cover girl." I only got anybody to listen to me because I had nice legs! I just wanted to learn about chimps, so to hell with them. I used it!
Jane, Documentary Premiere, Monday, March 12, 8/7c, National Geographic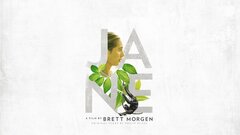 Powered by