WATCH: Roseanne Barr Gets Candid About Trump & Flips off Jimmy Kimmel
Roseanne is poised to return to televisions across America next week, so stars Roseanne Barr and John Goodman have been making the rounds. The latest stop? Jimmy Kimmel Live! to discuss the reboot's March 27 premiere.
While chatting about the new season, things took quite the political turn when Kimmel broached the topic. For those familiar with Barr, they know the comedienne voted for President Trump, and hasn't been shy about it.
This all came to light when the host brought up Barr's 2012 presidential run, after which she noted she came in sixth place as a candidate—despite only being allowed on three state ballots. "You were kind of the original crazy tweeter," Kimmel quipped.
"Yeah, Trump totally stole my act," she responded. Meanwhile, Goodman chimed in with his own joke, "And I've been paying women hush money for years."
Then it came time for Kimmel to ask the hard questions—like how the actress' support for Trump impacted her personal life, how it influenced the show, and why she decided to vote that way. "It's like everybody's family is pissed off at each other for one thing or the other, " said Barr.
See Also
The stars also clued us in on where their characters are in the revival...but does Jackie have a job?
Then, Kimmel shifted gears, asking Barr about her friendship with Trump's 2016 opponent, Hillary Clinton. "Weren't you a good friend of Hillary Clinton's at one point?" Kimmel probed.
Roseanne made a slight face, feigning anxiety, before giving the camera side-eye. "Yeah, I was," she admitted. Kimmel then asked her why she's now so down on Clinton, "I think you accused her of being a murderer on Twitter," he added.
"I did not!" she exclaimed, but he was ready with his rebuttal, "Roseanne, you know I'm gonna find that tweet in the next 40 seconds."
"I deleted it, so f**k you!" she clapped back, while flipping off Kimmel. Still, it was all laughs for the stars on stage. Barr claimed that her issues with Clinton were pertaining to her foreign policy, to which Goodman said, "She had one!"
When Barr turned the questions around to Jimmy, she asked what he thought about Clinton's policies to which he answered, "Listen, never mind her foreign policy, how 'bout captain wacko we've got running the country here?"
See Also
The reboot doesn't shy away from tough topics like race, gender, politics, and more.
"No matter who we voted for, we don't want to see our president fail, you know. Cause we don't want Pence," she said. "You want Pence for the president? Well, then zip that f**in' lip!".
"Here's my two cents, damn it," Barr concluded. "It's up to us to make this government work, no matter who's president. It's up to us to do our job as citizens and if we don't like something, let 'em know you don't like it, and then you've got another election in two years. Get out there and vote. Change it if you don't like it."
Roseanne, Premieres Tuesday, March 27, 8/7c, ABC
Jimmy Kimmel Live, Weeknights, 11:35/10:35c, ABC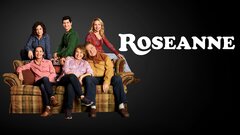 Powered by