'Timeless': Will Lucy's Singing Make Wyatt Swoon? (VIDEO)
Could the magic of Hollywood finally bring time-travelers Lucy (Abigail Spencer) and Wyatt (Matt Lanter) into each other's arms on a new episode of NBC's Timeless?
They've had some near misses when it comes to their lips meeting (though the previews for this episode show them finally smooching!) but we all know how TV dramas like to milk the sexual tension between two potential lovers, right? However, maybe the glamour and romance of La La Land will push things further this time around.
See Also
After the shocking season finale, Chris Carter gives fans some answers.
In Sunday's episode, called "Hollywoodland," the gang is on the Rittenhouse trail once again and ends up in 1941 Los Angeles. When Lucy, Wyatt and Rufus (Malcolm Barrett) infiltrate a party to get some intel they need to stop those Rittenhouse baddies, Lucy is encouraged to sing a song. Why not, right?
Check out this clip of Lucy using her pipes to entertain the crowd and, perhaps, with the song being "You Made Me Love You," do you think she's actually singing to Wyatt? Watch and see what you think!
Timeless, Sunday, 10/9c, NBC.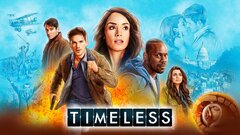 Powered by