'A Series of Unfortunate Events' Star Louis Hynes on What's Next for the Baudelaires
Some kids have it hard growing up, but it's difficult to find any that have it harder than the Baudelaire children on A Series of Unfortunate Events.
Dead parents and a lunatic hellbent on acquiring their fortune by killing them is just the start of what Klaus (Louis Hynes) and sisters Violet (Malina Weissman) and Sunny (Presley Smith) have to deal with.
See Also
The pics also show a few new members of the cast for the new season, which launches in Spring 2018.
With Season 2 debuting on Netflix on March 30, viewers can expect to be back on their edge of their seats watching the siblings—led by their big brother—battle Count Olaf (Neil Patrick Harris).
TV Insider was lucky enough to be able to chat with Hynes about his first big acting gig alongside a vet like Harris. The 16-year-old also teased what to expect this season—spoiler alert: It isn't good!—and weighed in on who is actually smarter: Violet or Klaus?
Had you read any of the Series of Unfortunate Events books or seen the 2004 movie before joining the show?
Louis Hynes: I had read the books—my parents read them to me as I was growing up, and then I went on to read them myself.
Was there anything that drew you to your character, Klaus? Did any part of you identify with him?
He sort of knows what he's trying to achieve and is very direct in the way he goes about it. [But] he also manages to maintain that [politeness]. So I was definitely drawn to the way he sort of tiptoes through that conundrum.
What's it like acting alongside Neil Patrick Harris? What did you learn from him?
He's always so professional, and so knowledgeable about what he's doing. He's actually been a great mentor to [Malina Weissman] and me. If we ever have any questions, we can always send him a text to sort of guide us through things. He's told us really just follow our instincts, and do what we feel is right.
Do you have any favorite scenes or moments from Season 1?
I think in the first episode when Justice Strauss and Olaf talk in the library. That's when it first hit me how real everything was—I was so new to the whole acting world at that point.
Obviously, things were pretty bad for the Baudelaire children in Season 1. Can we expect things to get any better in the second season?
Season 2 just gets worse and worse and worse, essentially. We start in the Austere Academy, Mr. Poe is there, and we're trying to stay there and avoid Olaf for as long as we can. But, of course, that doesn't work out and they end up in more adventures and sagas.
See Also
The actor has two big premieres this March.
The reviews for Season 1 were so positive. Did that make you nervous this time around?
Honestly, I try not to read any of them or to be too involved… There's definitely a sense of pressure, I suppose, to produce a show of high-quality. At the same time, having Season 1 under our belt, it's really nice to see we're doing more of what we've already done. It isn't such an alien thing now. We're moving towards the end of Season 3 now, we're [already] filming… We're really racing through everything.
The actress that plays your baby sister Sunny is pretty much a newborn. What's that like?
[Laughs] Presley is temperamental. It can be so rewarding when… I mean, when she said her first line, I think I was there, and when she took her first steps. Being able to have that connection with someone that young is really nice, but at the same time, sometimes a two-year-old or a one-year-old doesn't really want to be on-set. They'd rather be sleeping or just playing, and sometimes that can make it difficult.
Klaus' sister Violet is smart, but he's pretty bright, as well. Who do you think is more intelligent?
Oh, that's tough, that's tough. Klaus is well-read, whereas I think Violet has a lot of intuition. I'm really inclined to say Violet is more intelligent, if I had to pick one. Klaus has a huge amount of knowledge, but he's so awkward in the way he applies it. I don't know, there's a lot to be said about both of them.
After working with someone as established as Neil Patrick Harris, are there any other big stars you'd like to see appear on the show?
I'm not too sure. Right now there are so many up-and-coming people who would be amazing to have on the show. And they've definitely done a great job at getting some of them on-board—there are some great people coming for Season 2.
Watch a sneak peek at the new season in the below clip, featuring interviews with Hynes, Neil Patrick Harris, and Malina Weissman:
A Series of Unfortunate Events, Season 2, Friday, March 30, Netflix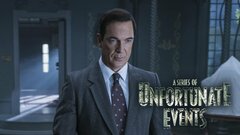 Powered by