'A Series of Unfortunate Events': Netflix Announces Final Season With New Promo (VIDEO)
Viewers will soon learn the fate of the Baudelaire children as Netflix has announced A Series of Unfortunate Events' third and final season.
Based on the best-selling books by Lemony Snicket (otherwise known as Daniel Handler), the series tells the story of orphans Violet (Malina Weissman), Klaus (Louis Hynes), and Sunny (Presley Smith), who are taken in by their uncle, Count Olaf (Neil Patrick Harris). Hellbent on stealing the children's inheritance, Olaf's many plans have been foiled throughout the show, but will this season prove successful for the evil man?
A new teaser video announces that Olaf and the kids will take a bow on January 1, as all of the episodes will be available on New Year's Day for streaming. The closing title card hints "we've saved the worst for last," which only builds the anticipation for viewers who've been waiting for the show's return after Season 2 was released in March 2018.
The video finds Olaf and Lemony Snicket (played by Patrick Warburton) telling parallel stories in two very different ways. What Olaf calls "golden opportunities" Snicket calls "unfortunate events," and their witty back-and-forth carries throughout the minute-and-a-half.
Images from the upcoming season also tease the return of Allison William's character Kit Snicket, who briefly appeared in last season's finale. Will the children unravel the mystery surrounding their parents' deaths? And will they learn more about the missing sugar bowl? We'll have to tune in to find out!
Listen to Olaf and Lemony Snicket's tale and relive some of the show's most notable moments in the teaser below:
A Series of Unfortunate Events, Season 3 Premiere, Tuesday, January 1, Netflix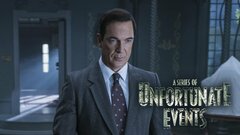 Powered by